Man Hurls Cat Into The Air Like A Rugby Ball As Laughing Friend Films
11 October 2018, 15:55 | Updated: 11 October 2018, 15:57
Warning: This video contains upsetting scenes.
A man hurled a cat down a street like a rugby ball as his laughing friend filmed the cruel act.
The pair have been given suspended sentences for the "dangerous and callous prank" in North Wales.
Joshua Weir, 27, of Linden Drive, Prestatyn and Lewis Brereton, 26, of Bryntirion Avenue, Rhyl, both admitted causing the cat unnecessary suffering on or before 21 July.
The shocking video shows Weir grapple with the cat as he tosses it into the air.
One of them says "hope you've got nine lives" as the terrified pet hits the floor before running off.
Appearing at Llandudno Magistrates' Court on Tuesday they were each given an eight-week prison sentence suspended for six months.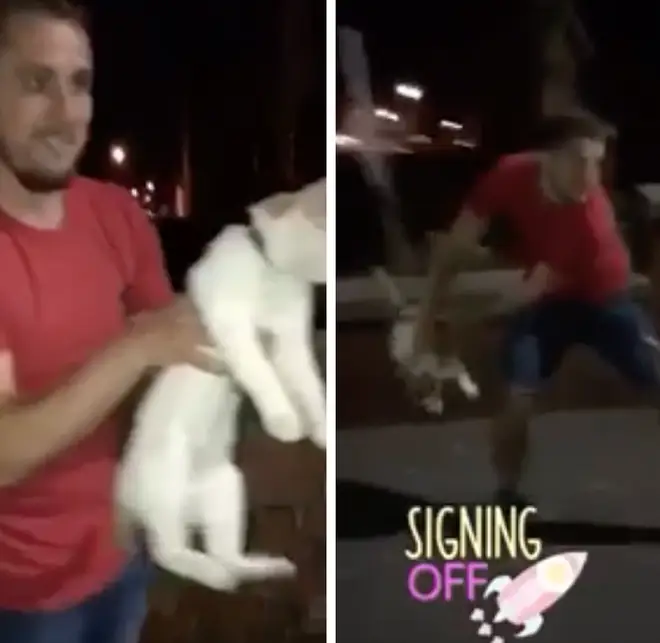 They were also banned from keeping animals for three years and ordered to pay £490 in costs each.
Fortunately the cat survived, but their actions have been slammed by the RSPCA.
Leanne Hardy from the animal welfare charity said: "This was a cruel, dangerous and callous prank.
"The video footage will undoubtedly cause great shock and horror across North Wales.
"This poor cat was tossed high into the air like a rugby ball. The individuals had zero regard for the animal's welfare, or the extreme damage this incident could caused the poor thing.
"It is horrendous that anyone would deem it acceptable to treat a living creature in such a way and do so for their own entertainment."