Moment Man Open Fires At Group Of Men In Broad Daylight
16 February 2017, 14:50 | Updated: 16 February 2017, 14:52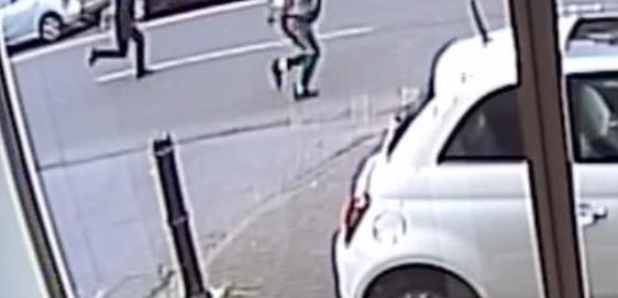 The Met Police have released CCTV footage of a man open firing at a group of men in broad daylight in south London.
Police are appealing for information after a man open fired at a group of people in south London.
The man fired a gun in the direction of a group of men following an altercation at about 5pm on May 18 2016 in Lavender Hill, Clapham.
The unknown suspect was then chased by the group of men along Lavender Hill, but managed to escape.
It is believed that a 9mm hand pistol was used after a 9mm shell casing was recovered from the scene.
He was wearing either a black ski mask or dark-coloured scarf over his face and the bicycle he was riding is described as a dark coloured mountain bike.
There have been no arrests, and enquires continue.
Anyone with information is asked to call police on 020 8247 4863 or the police non-emergency line on 101. You can also tweet police @MetCC.
Alternatively, contact Crimestoppers anonymously on 0800 555 111.