Streatham: Man shot dead on south London street after three injured in terror attack
2 February 2020, 22:58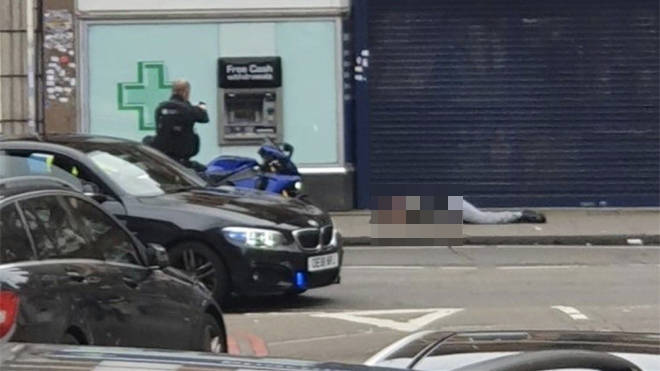 A man has been shot dead by armed police after two people were stabbed and another was injured in a terror attack in south London.
Scotland Yard confirmed the man was shot dead by armed officers on Streatham High Road at around 2pm on Sunday.
The Met Police added that two people had been stabbed and another received minor injuries following the attack.
One man, in his 40s, was "in a life-threatening condition" but has "thankfully" pulled through, police confirmed. His family have been informed.
A woman, in her 50s, who had non-life threatening injuries has been discharged from hospital.
Police said a second woman in her 20s, who received minor injuries believed to have been caused by glass following the discharge of a police firearm, continues to receive treatment.
- For all the latest updates on the Streatham terror attack, follow our live blog -
A police spokesperson said the scene has been "fully contained."
Searches were carried out at two addresses in south London and Bishop Stortford later on Sunday evening.
At the time of the attack, armed officers were seen pushing people back from the scene following reports of the shooting.
One witness said he saw "a man with a machete and silver canisters on his chest being chased by what I assume was an undercover police officer."
The attacker was wearing a "hoax suicide vest" made of instruments designed to look like an explosive device.
He is also believed to have been motivated by Islamist terrorist ideology, police say.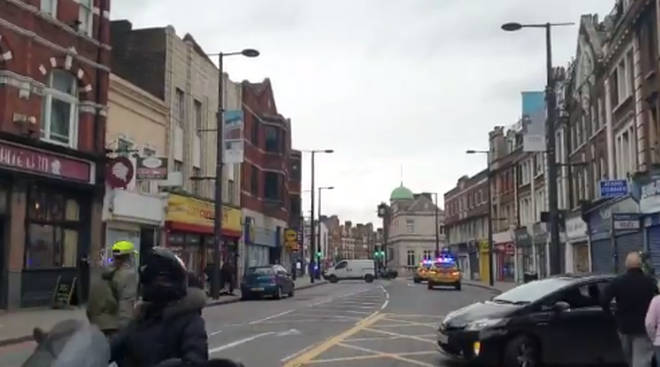 The attacker was "under active police surveillance" as part of a counter-terrorism operation it later emerged.
Prime Minister Boris Johnson arrived back at No 10 this evening to lead the government's response to the attack.
In a statement this evening, Mr Johnson said tonight he plans "fundamental changes to the system for dealing with those convicted of terror offences."
The attacker has been named as convicted terror offender Sudesh Amman.
He had been released from prison roughly one week ago. Amman had been jailed at the age of 18 in 2018 for possession and distribution of terrorist material. He admitted to 13 terror offences.
Amman had previously shared beheadings videos to his girlfriend and told her to kill her "kuffar" (unbelieving) parents.
Home Secretary Priti Patel also arrived at Downing Street along with the deputy commissioner of the Metropolitan Police, Sir Stephen House.
Mr Johnson is receiving an operational briefing from the Met alongside Ms Patel.
It is not believed to be a full Cobra meeting.
A witness told LBC News he heard "six loud bangs like gunshots."
Pictures from the scene show what appears to be a seriously injured man on the floor surrounded by armed police.
The person was seen being treated by doctors wearing body armour.
Meanwhile, another person said they saw someone being stabbed on the busy street.
They said they waited with the victim until an ambulance arrived.
Residents in the area said they were being evacuated from their homes.
Several firearms units were in attendance wearing balaclavas, as well as a police helicopter.
UK Prime Minister Boris Johnson took to Twitter to thank the emergency services for their response.
He said: "Thank you to all emergency services responding to the incident in Streatham, which the police have now declared as terrorism-related.
"My thoughts are with the injured and all those affected."
London Mayor Sadiq Khan said he was in "close contact" with the Met Police Commissioner and local representatives.
He also thanked the emergency services for "swift and courageous response."
Home Secretary Priti Patel said she was being updated by the Met Police and offered her thoughts to the victims, the emergency services and their families.
Labour leader Jeremy Corbyn also released a brief statement on Twitter: "My thoughts go out to those injured and affected by the incident in Streatham.
"I would like to thank the police and emergency services for their dedication and quick response."
The London Ambulance Service issued a statement, reading: "We were called at 1:58pm today to reports of an incident in Streatham High Road.
"We are working closely with the other emergency services and sent a number of resources including five ambulance crews, an advanced paramedic practitioner, an incident response officer and a motorcycle responder, with the first of our medics arriving in four minutes.
"We also dispatched London's Air Ambulance.
"We treated three patients for injuries at the scene, and took all three people to hospital."
A 19-year-old student from Streatham, who did not want to be named, claimed to have witnessed the shooting in front of a Boots store.
He said: "I was crossing the road when I saw a man with a machete and silver canisters on his chest being chased by what I assume was an undercover police officer - as they were in civilian clothing.
"The man was then shot. I think I heard three gun shots but I can't quite remember.
"After that I ran into the library to get to safety.
"From the library I saw a load of ambulances and armed police officers arrive on the scene."
He added that people began running into nearby stores after the incident.
"We were all informed to stay in buildings by armed police, until we were evacuated," he said.
Police are advising people to avoid the area "while the emergency services deal with the incident."
The Met Police have asked people to use "common sense and restraint" when publishing or sharing images and videos of the attack, especially images of the officers involved.
The Independent Office for Police Conduct will conduct an investigation into the attack as is necessary whenever lethal force is used by officers.
A spokesperson said: "We have been advised by the Met of the fatal police shooting earlier today, and declared an independent investigation at 3.30pm. We have investigators in the area. Our thoughts are with all those affected by this incident.
"It is mandatory for us to conduct an independent investigation when the police fatally shoot a member of the public. We have established protocols with the police to ensure our investigations do not hinder their ability to conduct enquiries as part of their related investigations."
Several roads in the area have been closed, according to the Jambuster website. The A23 - Streatham High Road - has been closed in all directions between Pinfold Road and Pendennis Road.