Man Used Mobility Scooter As "Battering Ram" To Run Over Elderly Women
27 September 2018, 14:51 | Updated: 29 September 2018, 13:53
A disabled man who used his mobility scooter as a "battering ram" to knock over two elderly women at a bus stop, has been found guilty of ABH.
Aaron Ali, 40, was found guilty of two counts of actual bodily harm after injuring two elderly women with his electric wheelchair.
He was accused of reversing into two women aged 90 and 85 years old on Wickham Lane in Welling.
The pair were waiting at a bus stop on June 14th when they were run over.
CCTV of the incident was played out in court on Wednesday.
Ali was found not guilty of a separate incident involving a man on Woolwich High Street on January 2nd.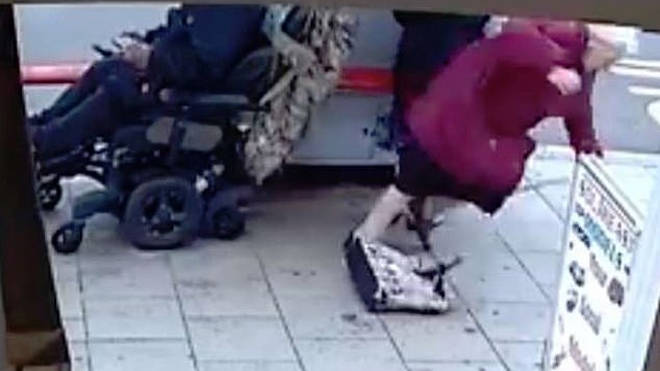 Detective Constable Iain Hill said: "Ali has used a means in aiding movement as a weapon, injuring two vulnerable people in this despicable act showing absolutely no remorse for his actions.
"He showed blatant disregard for the welfare of the woman he injured with his electric wheelchair. After hitting them, he drove off in attempt to avoid the consequences of his actions.
"Even after being arrested by police, Ali acted in an aggressive manner towards police and caused damage to a detectives laptop after he lost his temper and threw it to the floor."
A small amount of cannabis was found in Ali's possession during a search at Plumstead police station, and while in custody he damaged a laptop after he pushed it onto the floor during an interview with detectives.
Ali was also charged with possession of a Class B drug and one count of criminal damage, pleading guilty.
A date for his sentencing at Southwark Crown Court has not yet been confirmed.