The Moment Balloons Are Released For Alfie Evans
28 April 2018, 15:31 | Updated: 28 April 2018, 15:37
Hundreds of balloons were released into the sky outside Alder Hey Children's Hospital after the death of Alfie Evans, who had a degenerative neurological condition.
The parents of Alfie Evans have led tributes to their son, who passed away last night after doctors switched off his life support machine on Monday night.
Tom Evans and Kate James had launched a series of legal challenges to continue treatment for their 23-month-old son.
In February, Mr Justice Hayden ruled that doctors at Alder Hey could stop treating Alfie against the wishes of his parents because medical evidence showed that further treatment was futile.
The Court of Appeal upheld the decision, while Supreme Court justices and the European Court of Human Rights refused to intervene.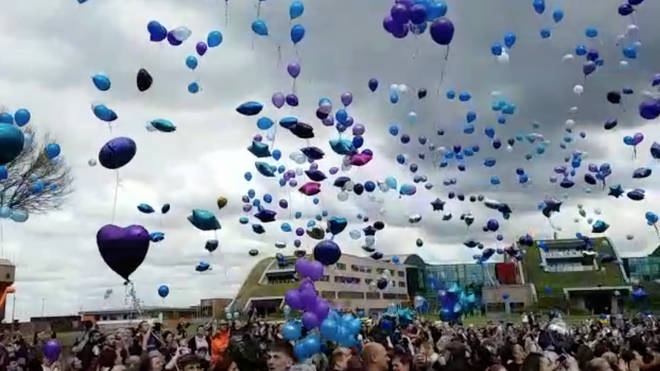 Tom Evans said on Facebook that he was "absolutely heartbroken" after his son passed away.
He said: "My gladiator lay down his shield and gained his wings."
Pope Francis tweeted that he was "moved by the death of little Alfie" and that his prayers was with his parents.
I am deeply moved by the death of little Alfie. Today I pray especially for his parents, as God the Father receives him in his tender embrace.

— Pope Francis (@Pontifex) April 28, 2018
In a statement, Alder Hey Children's Hospital said: "We wish to express our heartfelt sympathy and condolences to Alfie's family at this extremely distressing time.
"All of us feel deeply for Alfie, Kate, Tom and his whole family and our thoughts are with them.
"This has been a devastating journey for them and we would ask that their privacy and the privacy of staff at Alder Hey is respected."