Morning news briefing, Tuesday 17 December
17 December 2019, 06:49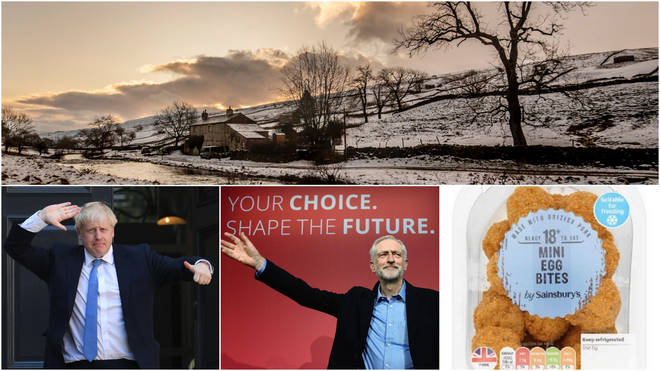 Good morning, here's all the UK and world news you're waking up to on Tuesday morning, as MPs prepare to be sworn in.
Morning, EJ here with all the news you need to kick start your day.
Christmas: 13 days to go.
No-Deal Back On The Table
MPs have filed into Westminster with the new intake arriving at Parliament, all the admin processes are complete and all that is left to be done is to swear the oath and elect a new Speaker.
Boris Johnson looks set to use his huge Parliamentary majority to ensure the country leaves the EU on January 31.
The legislation would prevent MPs from being able to extend the Brexit transition period beyond the end of 2020.
Under current plans, Mr Johnson's Government would see Britain's membership of the EU finish at the end of January with the transition period concluding in December 2020.
But Ministers plan to put a reworked Withdrawal Agreement Bill (WAB) before the Commons on Friday, which would rule out any transition period.
Meanwhile, the result was not as good for Jeremy Corbyn, as his MPs seek to distance themselves from the outgoing leader, while others vie to take his role.
Some furious MPs and defeated candidates have angrily pointed the finger of blame at Mr Corbyn, saying his past record and left-wing policies were poison on the doorstep.
But the leader's allies have placed the blame squarely on internal disagreement over Labour's stance on Brexit and the media.
In a bizarre exchange, Emily Thornberry became embroiled in an extraordinary war of words with former MP Caroline Flint.
The shadow foreign secretary threatened to take legal action after Ms Flint - who lost her Don Valley seat - accused her of branding Leave voters as "stupid".
In a weekend TV interview, Ms Flint said Ms Thornberry had told a colleague after the 2016 referendum, "I'm glad my constituents aren't as stupid as yours".
Hitting back, Ms Thornberry said: "One of my former colleagues came out and said the most extraordinary lies about me.
She said: "I've contacted her and I've said to her, please withdraw, I'll give you until the end of the day. And she hasn't. So I've had to go to solicitors.
"People can slag me off, as long as it's true, I can take it on the chin. But they can't make up s*** about me - and if they do, I have to take it to the courts."
"It's ridiculous, absolutely ridiculous. I have better things to think about than people going on television and making up s***."
"I have no idea what's in her head.
"All I can tell you is that you can't go on national television and make up s*** and not expect to be taken to the courts and that's what I'm afraid I'm having to do."
Tornado Watch
Three people have been killed and dozens of others injured as tornadoes left destruction in their wake, battering parts of the US Deep South.
Most of the tornadoes were reported in Mississippi, with several striking Louisiana, the National Weather Service said.
Homes have been left destroyed and infrastructure damaged after the tornado strikes, one person was killed at their home in Louisiana.
Another tornado smashed into Town Creek, Alabama, with the area's police chief Jerry Garrett saying two people were killed and at least four others injured when the winds destroyed houses and mobile homes.
Read the latest, on this developing news story here.
Meanwhile, in UK weather...
The Met Office has issued "danger to life" weather warnings with snow set to hit Britain and 70mph winds also predicted.
Britain is set to face "unsettled and unpredictable" weather over the next week after snow and gales of up to 70mph are set to batter the country.
The Met Office has warned of weather conditions that will change "by the hour".
Snow has already fallen in Scotland and parts of northern England, with videos on social media showing snow on the Yorkshire Moors.
Some areas were hit by as much as four inches of snow, with temperatures in Scotland expected to fall to -4C on Monday night.
Similarly, Northern Ireland is set to see a minimum temperature of 0C overnight.
The North of England has a risk of icy patches and minimum temperatures of -2 expected. In the south, temperatures are expected to sink to 1C, with frost and freezing fog likely.
Tuesday's Weather
Many areas will be dry and rather cold with some fog.
Today: Cloud and intermittent rain gradually clearing southeast Britain. Aside from odd showers near coasts, especially in Scotland, many other parts will be dry and bright. However, fog will be slow to clear in places. Rather cold for most.
Tonight: Isolated showers may affect a few coastal fringes but otherwise dry with some clear skies. Frost and fog soon returning, especially across southern and central areas of the UK.
And Finally...
There was a wealth of stories which could have gone into the 'And Finally' category today.
Ellie Goulding rushes to rescue of driver hit by Royal Mail lorry
or
Bizarre moment former speaker John Bercow bellows his trademark cry of 'order' in Italian
However, today I think it's going to be some consumer outrage, Sainsbury's has issued a recall notice for their 18 mini egg bites because customers might not be aware they contain egg...
A spokesperson said: "It has been brought to our attention that some packs of by Sainsbury's 18 Mini Egg Bites have the incorrect back label which means that egg, mustard and pork are not declared on the ingredients list.
"As a precautionary measure, we are asking customers who have purchased this product from Sainsbury's to return the product to their nearest Sainsbury's where they will receive a full refund."
That's it, you're up to date. I'll be back at the same time tomorrow, and until then have a great day. EJ