NASA astronauts make history with first ever all-female spacewalk
18 October 2019, 14:20
NASA has made history by kicking off the first all-female spacewalk in history from the International Space Station.
American astronauts Jessica Meir and Christina Koch have been sent out to space to repair a broken battery unit on the station's solar power network.
This is Ms Koch's fourth spacewalk and a first for Ms Meir, who has become the 15th woman (compared to 213 men) to venture out of the ISS and into the vacuum.
Their mission is expected to last five and a half hours.
In the past century, there have been 227 astronauts who ventured outside the spacecraft on dangerous missions in the void.
But there has never been an all-women team undertaking the task.
In a recent interview, Ms Koch spoke about the significance of this spacewalk, saying: "I think it's important because of the historical nature of what we're doing.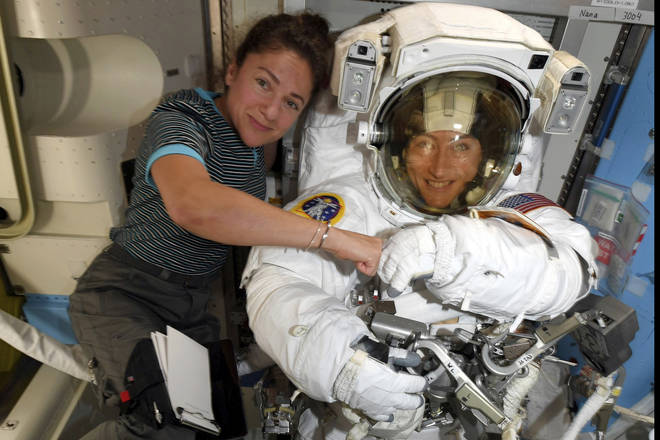 "In the past women haven't always been at the table.
"It's wonderful to be contributing to the space programme at a time when all contributions are being accepted, when everyone has a role.
"That can lead in turn to increased chance for success. There are a lot of people who derive motivation from inspiring stories of people who look like them, and I think it's an important story to tell."
Ms Koch, an electrical engineer, has been living in space since March while Ms Meir, a marine biologist, joined the ISS crew in September.
Ms Koch is more than 200 days into her mission and is slated to set a record for the longest single spaceflight by a woman - with an expected total of 328 days in space.
The US space agency had originally planned an all-female spacewalk in March - which included Ms Koch and fellow astronaut Anne McClain - but had to cancel it because of a shortage of medium-size suits.
Ms McClain originally thought a large-size spacesuit would be fit for purpose but later concluded that a medium would be safer.
She returned to Earth in June and Nasa sent a second medium-size spacesuit up to the station earlier this month.
Spacesuits are made of many interchangeable parts - designed to accommodate astronauts with widely varying body sizes.
Body measurements of each astronaut are taken and plotted against the size ranges available for each spacesuit component. The suits are then assembled - usually four months prior to flight.
While there are no differences between a male and female spacesuit, female astronauts usually wear a smaller size.