Nelson Mandela's widow 'felt the vibe' when meeting Harry and Meghan
2 October 2019, 20:08
The Duke and Duchess of Sussex were offered the chance to work with Graca Machel, the widow of former South African President Nelson Mandela.
Harry and Meghan spoke to the wife of the anti-apartheid revolutionary in Johannesburg on the final day of their tour.
Mrs Machel said she could "feel the vibe" upon meeting the royal couple as they were pictured sharing a laugh with each other at the residence of the British High Commissioner.
Prince Harry met the statesman's widow during a 2015 visit to South Africa, but it was Meghan's first introduction with the Mozambican politician.
"It's so good to see you," said the Duchess.
Mrs Machel replied: "It's wonderful meeting you. I'm sure we're going to be working together in the future. I can feel the vibe.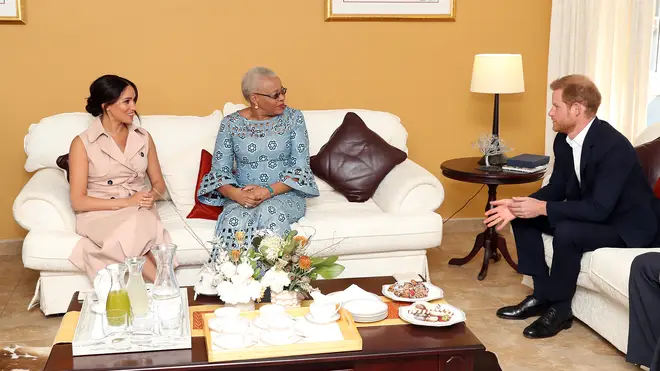 She shared an embrace and a kiss on the cheek with the Duke, saying: "Harry, welcome, it's so good to see you again."
The Prince told her: "You look amazing. How do you manage it?"
The group then moved inside to drink tea where Meghan and Graca Machel sat next to one another on a sofa, with the Duchess telling her: "I've been holding things down on this side."
Harry added: "I've done five or six countries in the past nine days."
She responded to the Duke: "It was so nice to see you in Angola. The Princess of Wales and all the steps she has taken. It was wonderful."
Following their meeting, a reception was held outside where they met investors and female entrepreneurs during which Meghan delivered a speech about the tour and an emotional trip to a post office where a 19-year-old girl was murdered.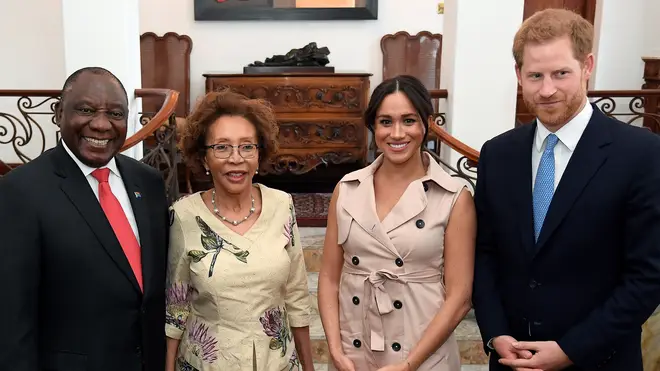 She said: "Gender-based violence is a harrowing reality for many women around the world. If there is any possible hope in the situation, it's that people are paying attention like never before."
The tour concluded with the royal couple meeting South Africa's President Cyril Ramaphosa and First Lady Dr Tshepo Motsepe in Pretoria for a private audience.
Harry and Meghan visited Tambisa township earlier in the day to see the work and members of a youth employment charity.
"I often refer to Africa as my second home," said Harry.
"Despite extreme hardship and ongoing challenges on many levels, people are generous. They are strong, humble, and incredibly optimistic."