Norwich tower block residents hit back at 'no foreign languages' poster
4 February 2020, 11:29
Residents of a tower block have said "hatred will not be tolerated here" after a poster telling residents to speak English was posted around the building.
Locals were left outraged after the notice, headed "Happy Brexit Day," was put on doors on all 15 floors of Winchester Tower in Norwich on Friday.
A photo of the poster, which was shared on social media, shows that it read: "As we finally have our great country back we feel there is one that needs to be made clear to Winchester Tower residents.
"We do not tolerate people speaking other languages than English in the flats.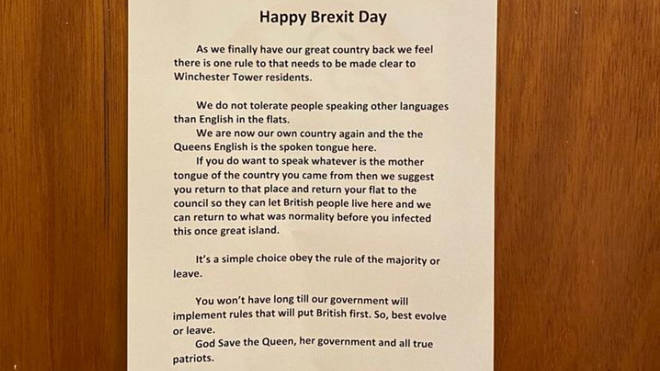 "We are now our own country again and the Queens (sic) English is the spoken tongue here."
"If you want to speak whatever is the mother tongue of the country you came from then we suggest you return to that place and return your flat to the council."
Resident Poppy Rose, 62, told LBC News that after hearing about the poster, she was "somewhat annoyed, I had hope it wouldn't be here.
"The post I saw on Facebook had the [building] name crossed out so I said I hoped it wasn't this tower block, but it was.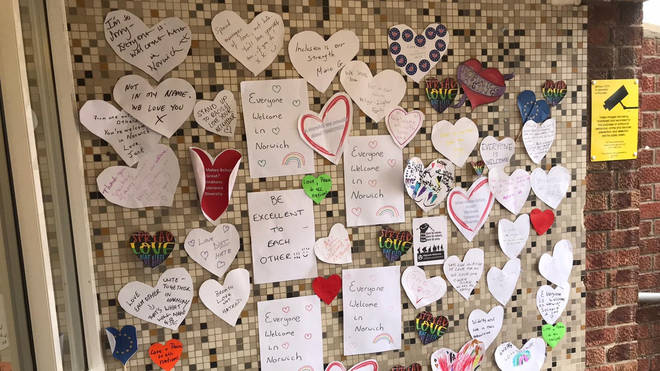 "I was kind of annoyed but also sorry for the person who felt they had to do it."
But she said she was "happy" about the reaction from the wider community, adding: "It's been a fabulous thing that people have come out who have no connection to this tower block and just shown us that they care and the world is not full of bigots.
"This was just one act by one person and there are countless good wishes."
One city councillor, speaking to the Eastern Daily Press, branded the posters "abhorrent" and a "hate crime".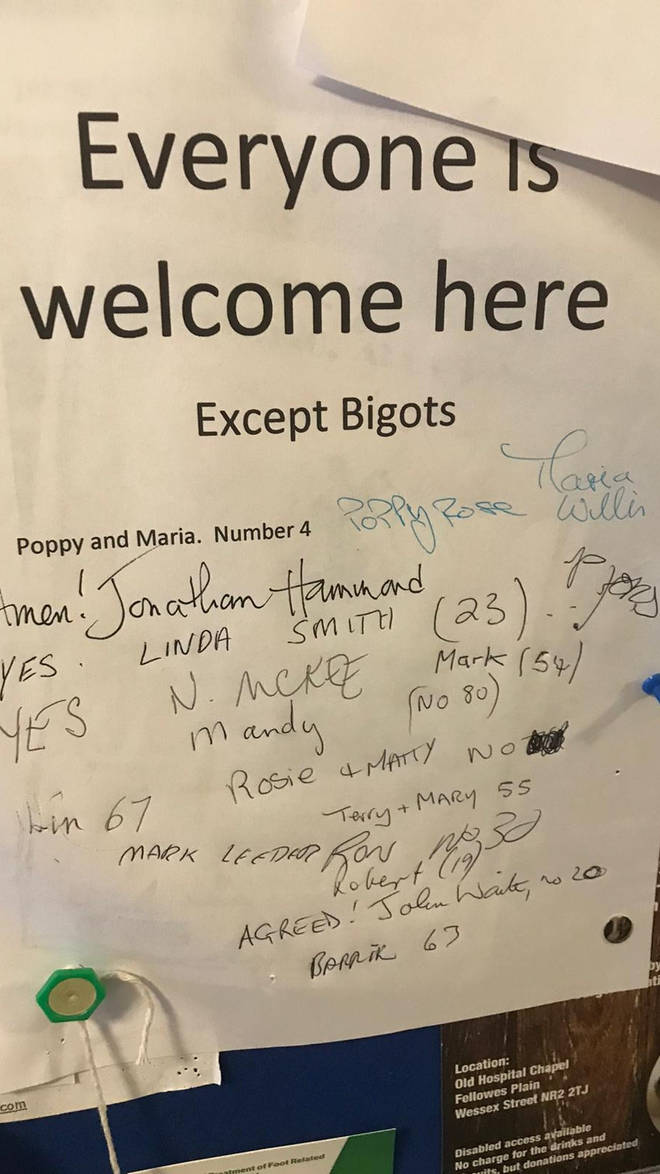 Mike Stonard said: "Many people voted for Brexit for a range of different reasons, however I am sure not many of them will condone this kind of thing."
Norfolk Police confirmed they were investigating the incident after officers visited the block on Saturday night after all the posters had been taken down.
In a statement, the force said: "Those posters kept by residents have since been seized for forensic inquiries and we will be working with the council to examine any available CCTV.
"There is no place in society for hatred and intolerance. Nobody should have to face intimidation because of who they are and it is more important than ever that we stand together in the face of hostility.
"We remain committed to helping people feel safe and secure as they go about their lives.
"The matter is being dealt with as a racially aggravated public order incident and anyone with information which could help officers with enquiries should contact Norfolk Police on 101 quoting crime reference 36/7964/20."