Coronavirus: 'Absolutely no need for anybody to stockpile', Government minister says
9 March 2020, 08:25
The Government has said there is no need for people to stockpile anything and major supermarkets have the supply chains necessary to keep shelves stocked for people.
In the wake of images of empty supermarket shelves over the weekend, Culture Secretary Oliver Dowden Dowden said the Government is in "constant contact" with major retailers to ensure supplies are available and that shelves are restocked as necessary.
Read more: Coronavirus symptoms: What are they and what is the risk of Covid-19 in the UK?
He said "There is absolutely no need for anybody to stockpile or anything like that.
"We are confident that the supermarkets have the supply chains necessary to keep shelves stocked for people, so there really is no need for that (bulk-buying) to happen."
Supermarkets have started placing restrictions on items including pasta, anti-bacterial wipes and hand soap in a bid to prevent shoppers from stockpiling in the wake of the coronavirus outbreak.
Commenting on reports of people panic-buying in shops, Prime Minister Boris Johnson said on Sunday: "We've had no advice from the scientific advisers or medical officers that there's any need for people to buy stuff in.
"If you think you have symptoms, the best thing to do as you know is to stay at home and contact the NHS.
"We will make sure we give the NHS... the investment it needs to cope with this crisis."
Read more: Coronavirus: Beard sanitiser sales spike after NHS urged staff to shave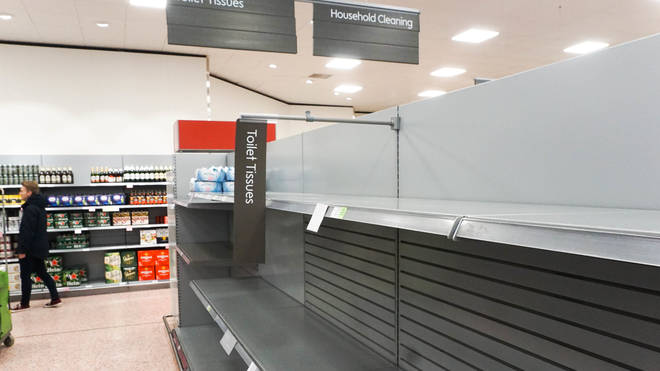 The Minister also said holding sporting fixtures behind closed doors is an option, it is "premature" to take such steps or to cancel events now.
He told the BBC: "At the moment, the advice is clear from the chief medical officer, there isn't a need to cancel such events."
He added: "There's no reason for people either not to attend such events or to cancel them at this stage, but we keep it under review."
Read more: Coronavirus UK: Do surgical face masks work to avoid virus symptoms?
Asked about holding games behind closed doors as is the case in Italy, he said: "That is an option in the future but we are clear at this point there is no need for events to be cancelled.
"We are very cognisant of the impact the cancelling of events may have both in terms of the economic and social impact."
Asked about plans to shut museums, galleries or concert halls, Mr Dowden said: "I think all of this is quite premature at this stage, we are not anywhere near that sort of stage.
"Any decision will be taken on the basis of the facts and the evidence. But we are very clear - at this stage we are still in the contain phase and that means that there is no need to cancel such events, there's no need for people not to go to sporting events, to museums and so on."
Read more: Coronavirus: What is a pandemic and how is one declared?
On Monday, Mr Johnson will chair a meeting of the Government's emergency committee, Cobra, while sports governing bodies and broadcasters will attend a meeting with the Department for Digital, Culture, Media and Sport to discuss how to handle the outbreak's possible impact on the sporting calendar.
Read more: Brighton shop owner asks customers to wear masks and gloves amid coronavirus fear
Speaker Sir Lindsay Hoyle will chair a meeting of the House of Commons Commission to discuss Parliament's response.
Environment Secretary George Eustice will hold further talks with retailers to discuss support for vulnerable groups who may have to self-isolate.