Parents seek nanny to cook and clean for daughter, 18, to 'ease her stress' at university
30 December 2019, 20:46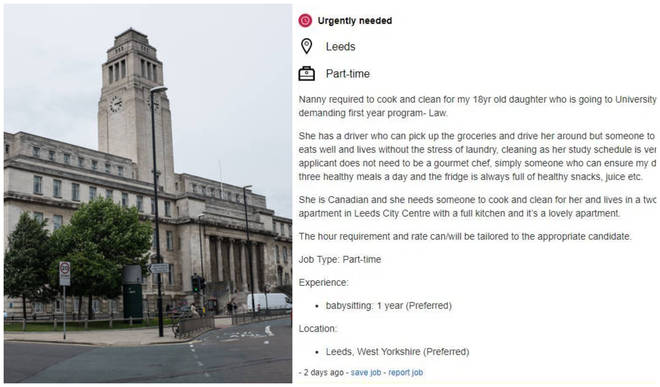 Many university graduates will remember their fresher year being filled with questionable cooking, late nights doing assignments and disgusting student accommodation.
But a pair of worried parents are keen to make sure their little darling has everything she needs at her fingertips and have gone so far as to advertise for a nanny to keep her clean and well-fed.
They posted an advert asking for a nanny for their 18-year-old daughter to "ease her stress" as a first-year law student at the University of Leeds.
The successful candidate would join a driver who has already been hired to pick up the girl's groceries and ferry her to and from class.
The duties the successful candidate would need to complete for their charge included cleaning up after their charge, doing her laundry and ensuring the fridge is always well-stocked with healthy snacks.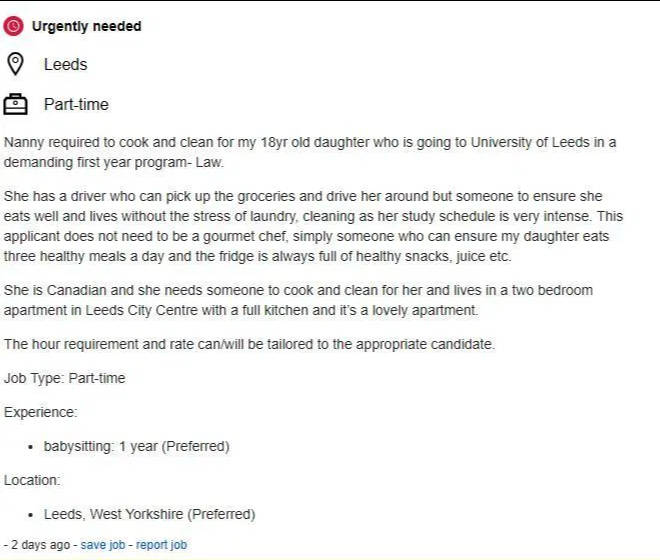 But it won't just be standard student halls they'll be cleaning, the girl's parents have shelled out for a two-bedroom apartment in the city centre.
The full advert, posted on Indeed, reads: "Nanny required to cook and clean for my 18yr old daughter who is going to University of Leeds in a demanding first year program- Law.
"She has a driver who can pick up the groceries and driver her around but someone to ensure she eats well and lives without the stress of laundry, cleaning as her study schedule is very intense.
"This applicant does not need to be a gourmet chef, simply someone who can ensure my daughter eats three healthy meals a day and the fridge is always full of healthy snacks, juice etc.
"She is Canadian and she needs someone to cook and clean for her and lives in a two bedroom apartment in Leeds City Centre with a full kitchen and it's a lovely apartment.
"The hour requirement and rate can/will be tailored to the appropriate candidate."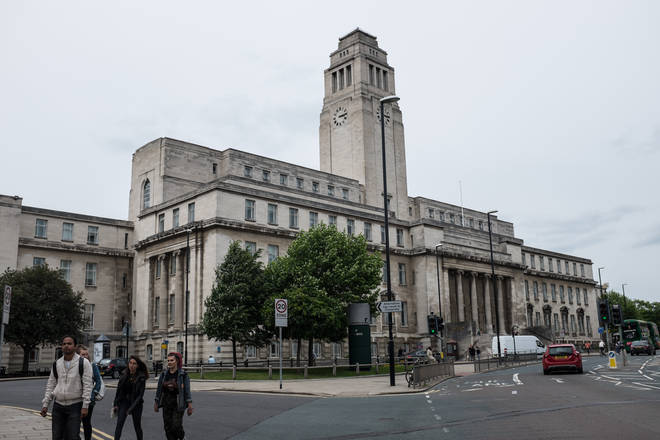 Inevitably, the advert was posted on Twitter and has since gone viral, with a number of people mocking the level of luxury which "rich people demand".
One said: "Please look at this job I found on Indeed, rich people are actually mental."
But others seemed keen to apply, thinking the job would be a breeze.
One added: "Wait - you get to live in the city centre apartment? And all you have to do is load a Canadian lass up with Greggs sausage rolls and wave a pledge dusters about the place?!
"Then cover me in maple syrup and call me Alanis - I am in."