Parts of Soho shut again as more parts of WW2-era bomb found
4 February 2020, 13:50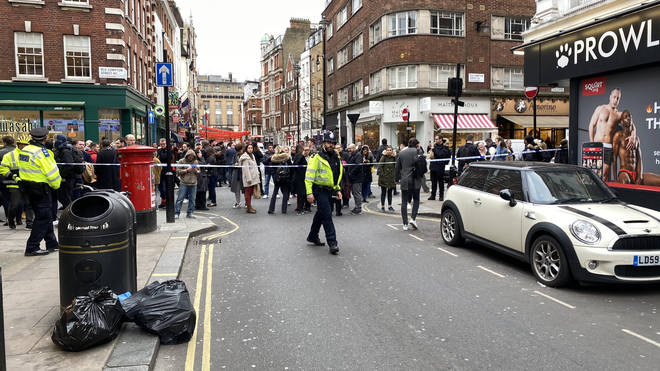 Police have closed parts of central London for a second day after more pieces of a WW2-era bomb were unearthed.
Pictures captured around Dean Street in Soho showed officers erecting cordons in similar areas as the day before.
Victor Garvey, who was at the scene on both days of police action, told LBC News the atmosphere seemed "a lot more urgent".
He added: "The police are being very aggressive (not in a violent way) getting people out.
"There are twice as many police if not more."
Reflecting on the information that the bomb had gone undetected for decades, he said: "It's obviously not great for business but I'm more perplexed as to how we've all been living and working and playing on top of two functioning undetonated WW2 bombs and no one told us this might be a possibility."
Half-ton 'unexploded WWII-era bomb' carefully removed from London's Soho
In a statement, Soho Police confirmed "another part" of the half-ton bomb found a day earlier had been discovered.
It added that roads would be closed around Dean Street, Richmond Mews, Mead Street and Saint Anne's Court - areas that are usually bustling with tourists.
"We apologise for the inconvenience and understand the disruption caused however these closures will likely be in place until the end of this incident."
The device, believed to be around 500kg, was first uncovered on Monday afternoon during building works near the Soho Hotel.
People in the surrounding area were evacuated from offices and homes to allow a Royal Engineers bomb disposal unit to deal with the device safely.
The emergency cordons were eventually lifted on Monday evening until a second piece of the explosive was uncovered the following afternoon.
This story is being updated