Pensioner 'in mobility scooter' arrested at Extinction Rebellion protest in Dover
21 September 2019, 16:26
Four elderly Extinction Rebellion protesters have been arrested in Dover alongside other activists who superglued themselves to main roads to "blockade" the busy Kent port.
The woman and three men aged in their 60s, 80s and 90s were taken into custody whilst staging a sit in at the Eastern Docks roundabout.
One of the arrests was announced by another activist with a megaphone, who said a protester in a "mobility scooter" had been apprehended.
Extinction Rebellion gathered upon Dover seafront to demonstrate against climate change in a protest called "No Food on a Dying Planet".
Others occupied part of the A20 outside the town where some people "superglued" themselves to the road in a bid to stop cars.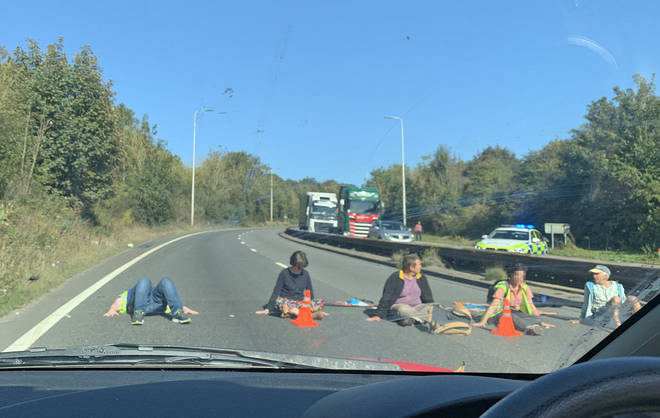 One Twitter user caught up in the tailback, Jade Evans, said: "Carnage in Dover! (They) have superglued themselves to the A20. The amount of police cars they have here to remove them is causing more pollution than you know #ExtinctionRebellion.
"(They) think they can stop pollution at Dover Ferry port. They've glued their hands and feet to the A20."
Kent Police established a designated area for the protesters on the westbound A20, however some reportedly ignored the cordon and demonstrated on the eastbound carriageway, creating disruption for holidaymakers.
The protest came to an end at around 3pm, Kent Police confirmed.
Two lanes at the busy Kent port were closed off to ensure the safety of the protesters and road users.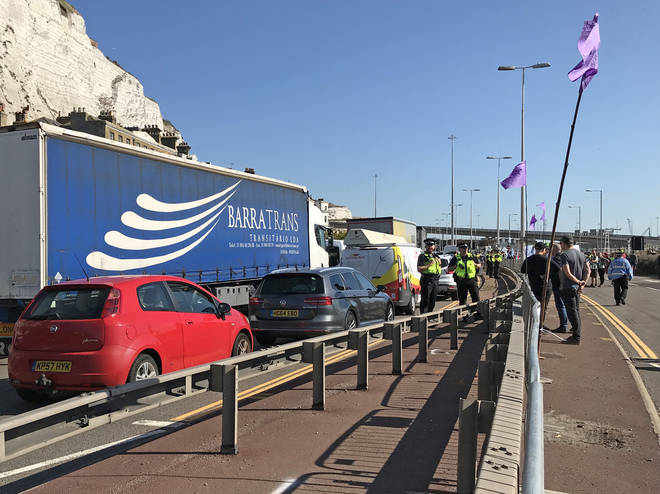 In a statement, Kent Police said: "Disruption has been kept to a minimum, with a large majority of attendees staying within the designated area.
"A brief closure was enforced on the A2 Jubilee Way shortly after 11am due to a small group of people obstructing the carriageway and they were safely removed within around 15 minutes."
Despite the hold-up to motorists, traffic "remained flowing throughout the day" with disruption being "kept to a minimum," said Chief Superintendent Andy Pritchard of Kent Police.
Ten arrests were made in total throughout the event, all on suspicion of public order offences with all remaining in custody as "enquiries continue."
XR (Extinction Rebellion) banners were also hung from Dover Castle and the iconic white cliffs.
The protest followed a global "climate strike day" on Friday where thousands of people, including school children, took to the streets to demonstrate.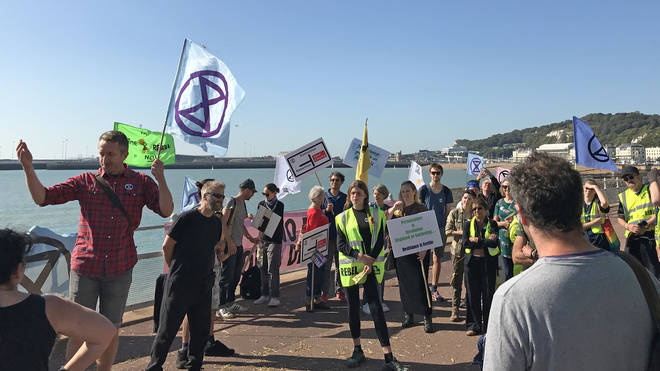 Chris Atkins from Extinction Rebellion Dover said: "As climate change develops, millions of ordinary Britons will face the real and growing threat of food shortages, hunger and starvation.
"Extreme storms and floods are already causing major crop failures across the world, with high temperatures also hitting livestock agriculture.
He added that although the crisis may seem far away in the future, the UK's dependency on food imports leave it "extremely vulnerable."
He said: "The Government must tell the truth and act now."