Prime Minister leads condemnation of 'horrendous' London Bridge attack
29 November 2019, 16:33
The Prime Minister led politicians today in their response after several people were stabbed in a 'horrendous' incident on London Bridge.
Boris Johnson returned to Downing Street this afternoon to receive updates from police and intelligence services about the knife attack.
In a statement, he said: "I've just been briefed by the commissioner and assistant commissioner of the metropolitan police about the events at London Bridge this afternoon.
"While this is an ongoing investigation, the police can confirm that this was a terrorist incident.My thoughts are first with the emergency services, the police, the bravery that they showed in going towards danger as they do.
"I also want to pay tribute to the extraordinary bravery of those members of the public who physically intervened to protect the lives of others. And for me they represent the very best of our country and I thank them on behalf of all out country.
"I think we're all very saddened to learn that some people have been injured in this event and our sympathies are very much with them and with their loved ones.
I can assure everyone that anyone involved in this crime, in these attacks, will be hunted down, will, be bought to justice.
And I think the message that we send to them and anyone associated with this type of attack is one that will be familiar and that is that this country will never be cowed or divided or intimidated by this sort of attack and our values, our British values, will prevail."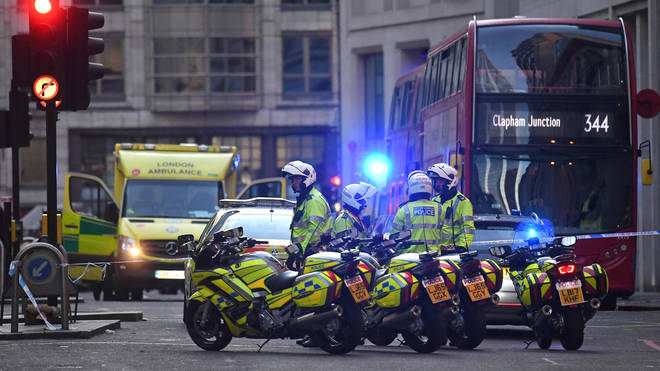 London Mayor Sadiq Khan made a defiant statement outside New Scotland Yard following the attack, saying the attackers
He said: "Those who seek to attack us and divide us will never succeed. I'd ask all Londoners to remain vigilant and report anything suspicious to the police.y updated this afternoon.
"It has been confirmed that a number of people were injured in the attack, some seriously. My heart goes out the them, their families and all those affected.
"As soon as it's possible to provide an update on their condition, the Met Police will do so - I'll ask you all to respect the privacy of those affected.
"Emergency service responders attended the scene including officers from the City of London and Metropolitan Police. A male suspect was shot by specialist armed officers from the City of London Police and died at the scene.
"I want to thank our brave emergency services who responded to today's horrific attack. Every day they put their lives on the line for us, running towards danger in order to keep us safe.
"I'd also like to thank members of the public who risked their own safety this afternoon - they are the best of us. Terrorism is cowardly and evil - we must and will stand united and resolute in the face of terror.
"Those who seek to attack us and divide us will never succeed. I'd ask all Londoners to remain vigilant and report anything suspicious to the police."
Jo Swinson, leader of the Liberal Democrats, said: "Our emergency services have once again displayed the courage and professionalism that keeps us safe everyday.
"I am hugely grateful to each and every one of them. My thoughts are with the people who were injured and all those affected by this appalling display of violence.
Labour leader Jeremy Corbyn also tweeted to thank emergency services.
Shocking reports from London Bridge. My thoughts are with those caught up in the incident. Thank you to the police and emergency services who are responding.

— Jeremy Corbyn (@jeremycorbyn) November 29, 2019
Police have appealed to the public to refrain from spreading rumours and images of the incident on social media, saying they will "release facts when we can - our info must be accurate".
Eye-witnesses said the suspect appeared to be wearing a suicide vest but Neil Basu, Assistant Commissioner for Specialist Operations, said the vest was a fake.
In a statement he said: "Officers from the Met's Counter Terrorism Command are now leading this investigation. I must stress, however, that we retain an open mind as to any motive. It would not be appropriate to speculate further at this time.
"Due to reports that the suspect may have had an explosive device, specialist officers also attended the scene and wide cordons are in place to ensure there remains no further danger to the public.
"However, I can confirm that at this time, we believe a device that was strapped to the body of the suspect is a hoax explosive device.
"Officers continue to carry out meticulous searches in the area to ensure there is no outstanding threat to the public."
Home Secretary Priti Patel tweeted to thank the police and urged the public to follow their advice.
Very concerned by ongoing incident at London Bridge. My thoughts are with all affected. I am grateful for the rapid response of our police and I urge everyone to follow their advice.

— Priti Patel (@patel4witham) November 29, 2019
Jennette Arnold OBE AM, Chair of the London Assembly, said: "Our thoughts are with all of those who were affected by the events at London Bridge today.  We thank the Met police for their bravery in dealing with the situation quickly.
"The calmness shown by those who were involved in this horrific incident is a testament to the resilience of this great city. "We encourage people to follow police advice."
London Bridge remains closed in both directions while police investigate the scene, as well as parts of Upper Thames Street and Lower Thames Street.
Brendan Cox, whose wife Jo was murdered in a terror attack in Batley during the EU referendum campaign in 2016, tweeted: "Please no one on any side use this for party advantage. Let it be a moment where we genuinely come together and show that terrorism will not divide us."
Watch our live blog for the latest on this story.
Do you know who any of the London Bridge heroes are? If so, please contact our newsroom on 0345 60 60 973.