Poppy Appeal 2019: Celebrating 100 years of the Royal British Legion
24 October 2019, 09:59
Rachel Riley teamed up with the Royal British Legion and GCHQ to help launch the 2019 Poppy Appeal in the weeks leading up to 11 November.
The pregnant Countdown star went "undercover" as a collector to help celebrate the thousands of volunteers who sacrifice their free time for the charity's annual appeal.
Several celebrities will be helping the RBLI on Thursday with their identities being revealed throughout the day.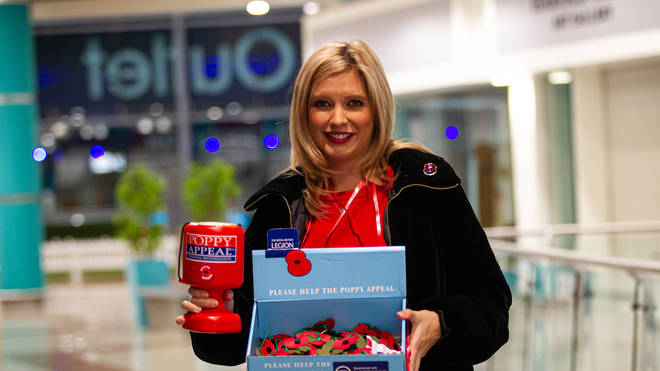 The charity released a series of "GCHQ brainteasers" on Twitter for people to solve that will help them work out the mystery stars.
First to be uncovered was Countdown's famous mathematician Rachel Riley who teamed up with some of the Legion's 40,000 Poppy sellers to highlight their fundraising efforts.
Do you have what it takes to complete Operation Poppy? Here's the first puzzle from @GCHQ - comment below if you think you know the identity of our first undercover celebrity and share with friends and family to see if they can solve it too! #PoppyAppeal pic.twitter.com/EJpJRuWsJk

— Royal British Legion (@PoppyLegion) October 23, 2019
She met up with the north west's Young Volunteer of 2019, Alex Henshaw, saying it was a "pleasure" to be working alongside someone like him.
Ms Riley said: "I've gone undercover as part of the Royal British Legion and GCHQ's Operation Poppy to highlight the hard work and dedication of the 40,000 Poppy Appeal collectors who give up their time each year, and to shine a spotlight on our armed forces who sacrifice so much to serve our country.
"Every Poppy collector, like Alex, has a unique story to tell so please, look out for your local collector, make a donation and wear your Poppy with pride."
Next to be unveiled was Eddie Izzard, whose GCHQ clue was: "Our next famous Poppy collector got his big break at B_____ C______ (Banana Cabaret)."
At 7:30am the latest famous face was revealed to be Coronation Street's Antony Cotton.
The fundraising exercise, named Operation Poppy, will play out all day on Thursday social media and screens at London's Paddington Station, where the public can watch the big reveals and hear stories of those serving in the armed forces.
RBLI's director of fundraising, Claire Rowcliffe, said: "Our undercover celebrities and the puzzles are a fun and engaging way for the public to get involved in this year's Poppy Appeal launch, but there is a serious message at its heart.
"Life for those in the armed forces community comes with a whole host of challenges and difficulties - from those that endure the daily sacrifice of being away from loved ones, to those carrying out roles that so often go unnoticed, such as at GCHQ.
"This year is all about telling the hidden stories of our armed forces who provide an incredible service to our country in all kinds of ways, and telling the stories of the collectors who volunteer every year to show their support for them."
The Royal British Legion's annual Poppy Appeal takes place from October 24 until Armistice Day on November 11.