Primary school children to be banned from heading footballs in training
24 February 2020, 11:55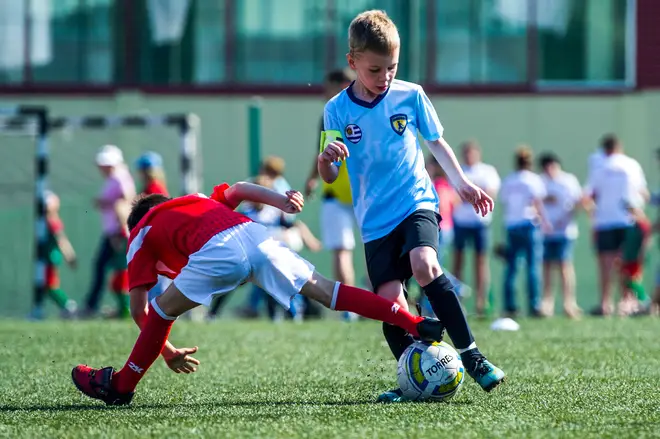 Primary school aged children will no longer be allowed to head a football during training under new guidelines.
The ban means that there would be no heading at all in the "foundation phase", which would apply to children under the age of 12.
A "graduated approach" would be applied to those under 16.
The three football associations issued a joint statement on Monday confirming changes to their heading guidance.
It comes after a FIELD study showed former footballers were three and a half times more likely to die of neurodegenerative disease, including dementia, than age-matched members of the general population.
A similar ban has been in place in the US since 2015.
In a tweet, the Scottish FA said: "The guidance will be introduced with immediate effect."
The rules will not apply to youth matches.
The Football Association of Wales says they're reviewing primary school football rules, and that this is likely to include a ban on heading footballs.
In a statement, the association said: "Mini football is currently the only recognised form of football for children under 11 years old in Wales. While the game has all the features of real football, the smaller scale of the game means that the focus is on the ball to feet practices and technique.
"There is currently a review of mini football underway with the findings due to be made available later this year. Any guidance on heading will form part of the recommendations from this review."
NEWS | We are today publishing updated heading guidelines for all age groups from six to 17 years old.

The guidance will be introduced with immediate effect.https://t.co/7p3rwWULWl

— Scottish FA (@ScottishFA) February 24, 2020
Last year, former England player Ryan Mason called for a ban on children heading footballs.
Mason, who now coaches Tottenham Hotspur's under-18 team, suggested that children used sponge balls to learn the technique rather than heading harder footballs.
Campaigners have also welcomed the decision, including campaigner Dawn Astle, daughter of the former West Bromwich Albion striker Jeff Astle who died in 2002.
We applaud them for trying to put things in place to reduce the risk and not hanging on and hanging on and keep saying 'more research, more research'," she said.
FA chief executive Mark Bullingham said: "This updated heading guidance is an evolution of our current guidelines and will help coaches and teachers to reduce and remove repetitive and unnecessary heading from youth football.
"Our research has shown that heading is rare in youth football matches, so this guidance is a responsible development to our grassroots coaching without impacting the enjoyment that children of all ages take from playing the game."