Prince Harry appears to 'snub' Boris Johnson at Commonwealth ceremony
9 March 2020, 20:16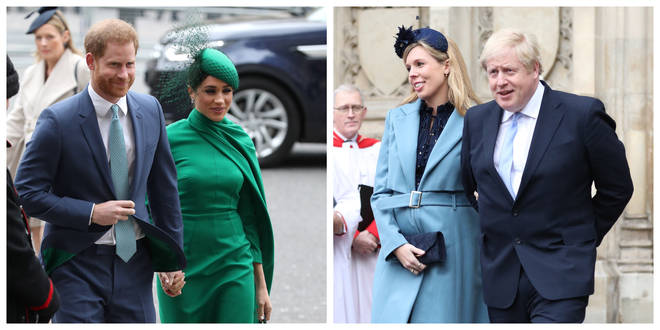 The Duke of Sussex appeared to "snub" the Prime Minister as the royals lined up to meet with dignitaries at the Commonwealth Service on Monday.
In the clip, which was posted on social media, the Duke seems to ignore the Prime Minister and instead talk to Baroness Patricia Scotland QC.
The video shows members of the royal family being introduced to a line of dignitaries as they arrived at the Commonwealth Ceremony, which included Boris Johnson.
However, Harry seems to walk past the Prime Minister without acknowledging him.
In the line, no-one shook hands as they greeted each other, and it is understood that the Queen and other senior royals were told to follow the protocol Westminster Abbey has been operating under during the past few days.
Boris Johnson was also told not to shake hands with dignitaries including the Queen over coronavirus fears and said the move sent a "subliminal cue" about the importance of hygiene.
The Prime Minister said: "We were all given an instruction not to shake hands and there's a good reason for not shaking hands, which is that the behavioural psychologists say that if you don't shake somebody's hand then that sends an important message to them about the importance of washing your hands.
"So there's a subliminal cue there to everybody to wash your hands, which is, I think I'm right in saying... far more important."
The event was Harry and Meghan's last official appearance as senior royals, celebrating the Commonwealth alongside members of the monarchy.
The clip has caused discussion on Twitter, with one user asking: "Did Harry just bypass Boris?"
Another said: "Prince Harry totally snubs Boris Johnson!"
"Harry blanks Boris. Superb," commented a third person.
Harry and Meghan have had a hectic few days which have seen them attend a string of public events.
Their goodbye tour has included the Endeavour Fund Awards, a military musical festival at the Royal Albert Hall and Meghan's secret visit to a school in Dagenham, east London, to celebrate International Women's Day.
The couple do not officially step down from their roles as working members of the royal family until March 31, but the service is the symbolic end of their life as senior royals.
At the event, the Duke and Duchess of Sussex were not part of the Queen's procession through Westminster Abbey at the start of the Service.
On their final official royal engagement, Harry and Meghan were conducted to their seats, rather than waiting for the Queen's arrival and walking through the church with the monarch as they did last year.
The procession included the Prince of Wales, the Duchess of Cornwall, and the Duke and Duchess of Cambridge, clergy, Prime Minister Boris Johnson and the Commonwealth Secretary General, among others, according to the Order of Service.