'Sassy' Princess Anne shrugs as she stands behind Trump at Palace reception
4 December 2019, 12:15
Princess Anne has been described as "sassy" and a "true hero" after a clip emerged of her shrugging during an exchange with the Queen at a meeting with Donald Trump.
A video, which has gone viral, shows the Queen, the Prince of Wales and the Duchess of Cornwall meeting President Trump and his wife, Melania, with Princess Anne standing in the background.
After shaking the US leader's hand, the Queen turns to Anne and appears to say something and beckon her over, to which Anne shrugs.
Many viewers suggested the Princess was being "told off" by the Queen for refusing to greet the leader, but a longer clip shows that she entered the room after him.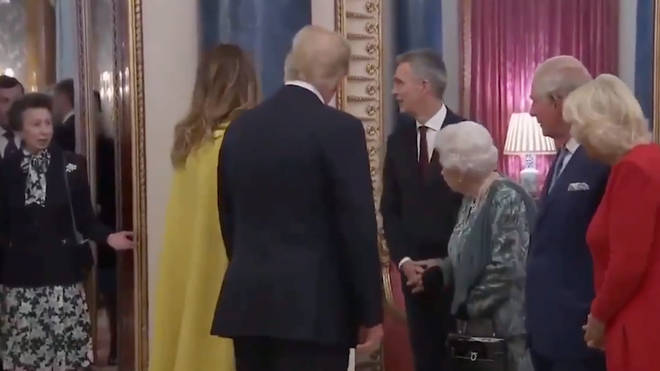 The US President is in the UK for a Nato leaders summit, and attended a reception at Buckingham Palace on Tuesday.
Princess Anne was praised for the "sassy" move on Twitter, with one user saying: "Sassy Princess Anne defying the Queen, snubbing Trump and salvaging the royal family's relationship with the public in one fell swoop #YasPrincess"
Another added: "The Queen chastising Princess Anne for not greeting Trump and Anne not giving a single shit is the mood we all need to take into today."
While a third said: "Well done Princess Anne, a royal with morals."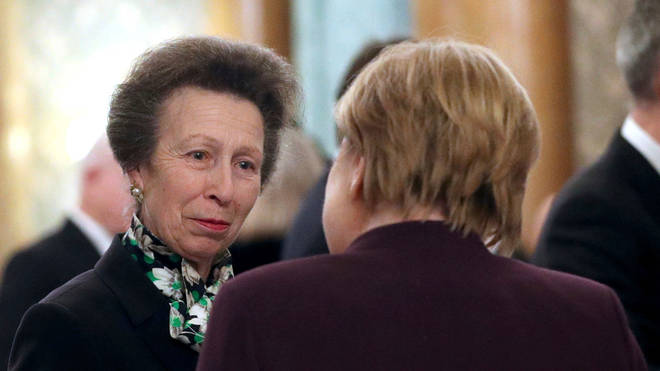 In a separate incident, the Princess Royal was spotted in a huddle with world leaders Emmanuel Macron, Justin Trudeau, Mark Rutte and Boris Johnson, who were apparently making remarks about Mr Trump.
The French president and Canadian Prime Minister were caught on a microphone discussing a "40-minute press conference" but did not name President Trump directly.
Mr Johnson asks Mr Macron "is that why you were late?"
Justin Trudeau replies: "He's late because he takes a 40-minute press conference off the top."
The video clip of the chat has been viewed almost four million times since it was posted online.