Pupils make hasty goodbyes and fear the future as schools shut due to coronavirus
20 March 2020, 12:16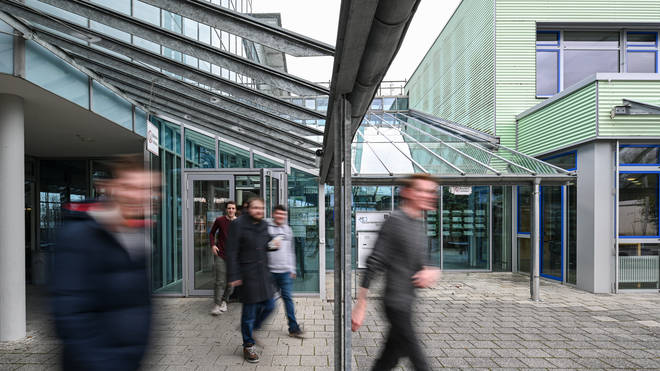 Students across the country are bidding their final farewells to classmates today, as schools shut their gates over the coronavirus crisis.
Many sixth formers are hurriedly planning leavers' photos and hastily saying goodbye to teachers, not knowing whether they will return before the summer.
Boris Johnson announced earlier this week that all schools are closing from Friday in a bid to stem the Covid-19 pandemic, with all GCSEs and A-Levels cancelled, with establishments remaining open only to care for the children of "key workers".
Read more: Who is a key worker and what children are classed as vulnerable in UK school closures?
But it has left thousands of teenagers uncertain about how they will secure university places or get their grades.
"I am probably one of the few who are quite saddened that we cannot complete our exams this year," Jamie Harkin, a Year 13 student at Drumragh College in Tyrone, Northern Ireland, told LBC News.
"There is nothing quite like the feeling of going in and smashing that final exam on those final days with the sun beaming in at you as you complete the revision for that last exam."
He added: "My friends and I are deeply concerned about the grades awarding process and we hope our hard work and efforts are recognised so that we can get into our dream universities and move on with life after this pandemic passes."
[LIVE NEWS: Friday's coronavirus news as it happens in our live feed]
Mr Harkin, who is hoping to study at Kings College London in September, said: "Everyone is up in arms because nobody has a clue what is going on. Do we keep revising? Do we put it all away? What are we going to do for the next three months?"
"You are working towards your leavers' assemblies, parties and having a good time. To think that has been cut short now in March is really scary."
Read more: Coronavirus and pregnant women: What is the official government advice?
Headteachers have been sharing heartfelt messages from rushed leavers' assemblies this morning. In an extract shared to Twitter, one Suffolk head told Year 11s: "I know that tomorrow will feel strange. You will feel that you have lost out not having the same end to school as everyone else. Try not to dwell on this.
"Remember how many fabulous memories you have of time together already. These are not lost."
He added: "We will help you to get through this. I don't have all the answers today, but it will be fine. You are amazing people."
Read more: Coronavirus: Beard sanitiser sales spike after NHS urged staff to shave
Hundreds of students have taken to Twitter to vent their upset and frustration at speculation they may be offered their predicted grades or mock exam results in place of axed exams. The National Union of Students has warned this could "rob" teens of the chance to defy expectations.
The government is due to outline today how it plans to assess Year 11s and Year 13s, but has said it is planning to deliver grades to students as normal in August.
Read more: Coronavirus - Who should self-isolate and for how long?
Geoff Barton, general secretary of the Association of School and College Leaders, said: "This is an incredibly difficult situation for Year 13 students.
"They will leave school or college on Friday afternoon with a great deal of uncertainty about what lies ahead and all the traditional landmarks of the academic year disrupted."
Speaking to LBC News, Rochelle De Souza, 17 and of LaSWAP sixth form in London, said: "Following the recent news, many students are upset by the prospect of receiving predicted grades as we feel like we were robbed of the opportunity to prove ourselves in the exam hall, and possibly exceed the expectations made of us.
"While the proposition of receiving a grade without sitting exams are beneficial to some, especially those with high predictions we still feel like we deserve a chance.
"It has been particularly difficult to leave sixth form so abruptly, my college closed yesterday due to very few students attending and it was upsetting to end seven years of education at my school without really saying a proper goodbye."