Ryanair flight forced to land 120 miles off course 'after Donald Trump storms out of Nato summit'
4 December 2019, 21:22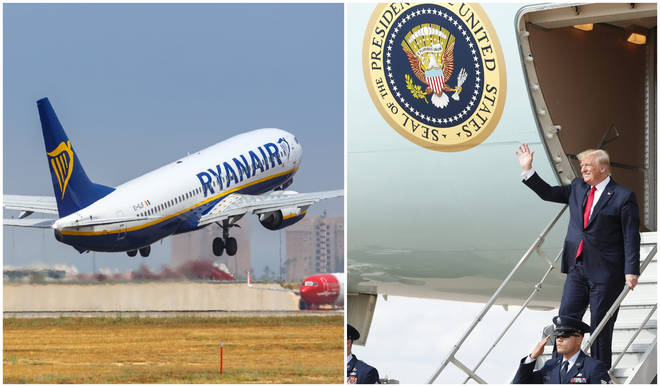 A Ryanair flight was forced to divert to an airport 120 miles away after the skies were cleared for Donald Trump's official plane.
The US President was leaving the UK early after Nato leaders seemingly "gossiped " about him during a reception at Buckingham Palace.
He was seen landing at Stansted on board his helicopter, Marine One, at around 5.15pm and took off inside Air Force One shortly afterwards.
The Ryanair flight from Lisbon should have landed at Stansted at around 5:30pm, but was instead diverted to East Midlands Airport - 120 miles away.
It then took off once again and eventually landed at its intended destination at around 7.50pm - more than two hours late.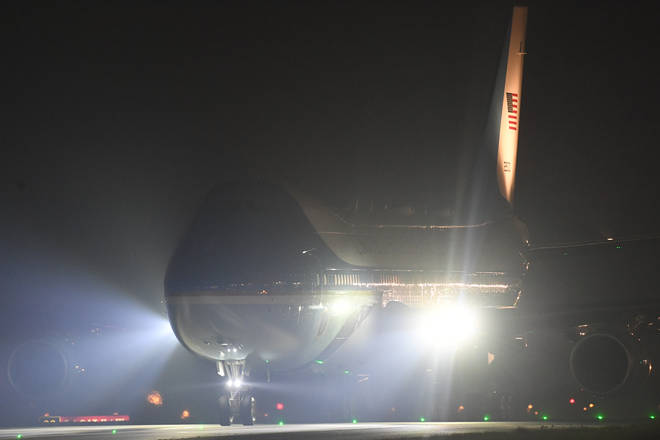 One of the passengers told LBC News: "Instead of Stansted we had to fly to East Midlands Airport, it wasn't announced until we were literally landing.
"We were at East Midlands for about an hour while Air Force One took off from Stansted before we took off again.
"The pilot told us no planes were allowed to land or take off from Stansted until Air Force One had taken off.
"Most passengers took it ok because it was out of everyone's hands but some had connecting flights which they've likely missed. There were lots of young families on board too.
"The pilot has been very apologetic and thankfully no one is kicking off with the staff or blaming the airline.
"I think we were all just very bemused."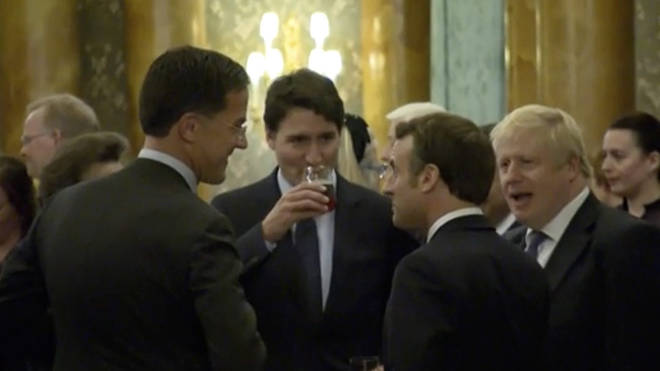 Mr Trump decided to leave the Nato summit early following claims the Canadian Prime Minister Justin Trudeau had joked about him with French President Emmanuel Macron and British Prime Minister Boris Johnson.
The US President later branded Mr Trudeau as "two faced".
Mr Johnson, however, brushed off allegations he joined in with the joke and called the claims "rubbish".
Johnson said the suggestion he was joining in with a joke and didn't take him seriously "is absolute nonsense, I don't know where that has come from".
When pressed again on the topic, he added: "I really don't know what is being referred to".
LBC News have contacted Ryanair for comment.