Ryanair strike: pilots begin 48-hour walkout
18 September 2019, 08:06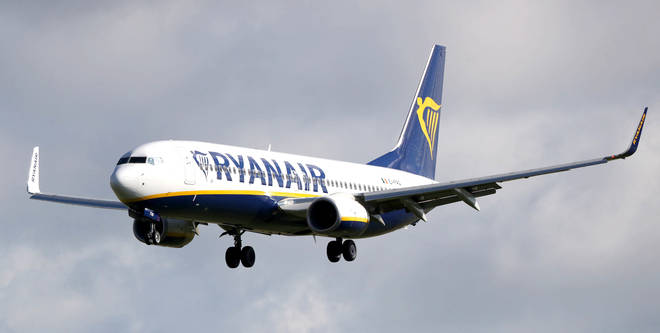 A 48-hour Ryanair strike begins today and lasts until the end of Thursday, as Balpa pilots demand better working conditions from the airline.
The long-running dispute between Ryanair and Balpa (British Airline Pilots Association) is largely based on pensions, loss of licence insurance, maternity benefits, allowances and a "fair, transparent, and consistent pay structure".
Strikes have already taken place in late-August and early September, lasting 48 hours and three days respectively.
Further strike dates are set for September 21, 23, 25, 27 and 29.
Announcing the upcoming dates, Balpa General Secretary Brian Strutton said at the time: "We are clear that we want to settle the dispute and bring about a change in Ryanair for the better.
"Pilots in Ryanair are seeking the same kind of policies and agreements that exist in other airlines – our demands are not unreasonable."
He said action has "considerably disrupted" Ryanair and forced them to engage contractors and bring in foreign crews - but only had a "limited impact" on the public's travel plans.
"Ryanair should stop dragging its feet and get back to the negotiating table," he said.
Many passengers on social media are worried about strike action, although Ryanair is confident that a normal schedule will operate despite the strikes.
@Ryanair hi. Any updates on the flights that will be affected due to the strike this week? We're flying on Thursday from BHX to BTS. Thank you.

— storyelf (@storyelf1) September 16, 2019
Ryanair announced yesterday in a statement: "Ryanair expects all its flights to/from UK airports on Wednesday 18th & Thursday 19th to operate as scheduled thanks to the efforts of over 95 per cent of our UK pilots who have confirmed that they will work their rosters, and will not support these failed BALPA strikes.
"On behalf of our customers and their families we wish to sincerely thank all our UK pilots who do not support these BALPA strikes.
"We have repeatedly invited BALPA to return to negotiations with Ryanair, and to call off these unsupported and failed pilot strikes, but BALPA have yet to offer any reason for their continuing refusal to take up these invitations."