Shocking Moment Car Flips Onto Side After Speeding Down A Country Lane
27 November 2018, 12:34 | Updated: 27 November 2018, 12:50
The startling video footage captured on a dash cam shows a dangerous driving incident on a country lane.
Footage shows the driver narrowly avoiding a head-on collision as an approaching vehicle comes too quickly round a blind corner and mounts the grassy bank.
Jason Friend, of Penryn, Cornwall, was making his way down a small country lane, conscious of the narrow width of the road. The single-track road had few passing points and was lined on either side by high grass banks.
Approaching a blind bend at 24mph, as indicated on his dash cam, Mr Friend was shocked to see a silver Volkswagen Golf estate speeding towards him.
Mr Friend quickly applied his brakes to avoid hitting the oncoming vehicle, but the VW failed to do so in time. Instead, it swerved into the steep bank and, as a result of its speed, flipped onto its side.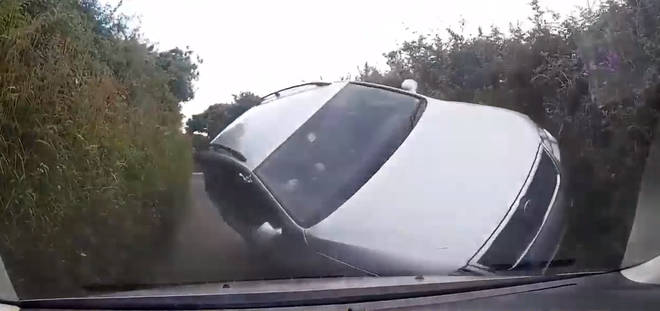 The police were called to support the removal of the overturned car from the narrow lane in Cornwall and fortunately, neither party was hurt.
The dramatic footage, shows the approaching VW bumping Mr Friend's car as it rolls, causing damage to the front of the vehicle and then banging down to the ground causing the VW's bonnet to cave in.
Despite the driver of the VW admitting fault at the scene, he has reportendly since taken Mr Friend to court over the incident, attempting to pin liability on him for the crash. Mr Friend, however, has the dash cam footage to help prove his innocence.
Richard Browning, Director at Nextbase, the UK's leading manufacturer of Dash Cams, said: "We're sorry to hear that Jason is being dragged through the courts as a result of this incident but I'm certain that this footage will prove his innocence."