Shops Giving Dangerous Advice On Drone Use: LBC Investigation
3 January 2017, 06:57 | Updated: 3 January 2017, 10:37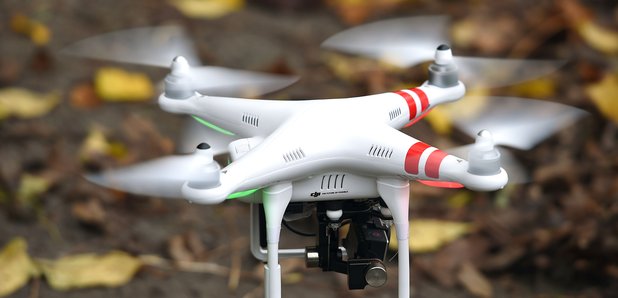 An LBC investigation has discovered that shops are giving out incorrect and dangerous advice on where you can use drones.
Drones were one of the most popular Christmas presents last year with tens of thousands being sold in the weeks before Christmas.
But there are very strict rules governing where you can fly the quadcopters - and shops are giving out bad advice.
LBC reporter Vincent McAviney went to nine different shops to purchase a drone and only one - Apple - gave the correct advice on where you are allowed to fly them.

The other shops told Vincent that drones can be flown everywhere, including right up to the fence of Heathrow Airport according to Hamleys.
There are large no-fly zones for drones around airports following a series of near-collisions with aeroplanes, while drone use is also banned around army bases and prisons. Drones have to be flown in your line of sight at all times and they can't go above 120 meters – that's just short of the height of the London Eye. You can't fly any drone with a camera within 50 meters of buildings, vehicles or people.
This map below shows all the areas in the UK that drones are not allowed to be flown - including most of London.
We've approached the retailers that Vincent visited in order to get their response.
What the stores say...
John Lewis:
"Although we have guidance from the CAA about the correct use of drones on our website, we are disappointed that in this instance this was not passed on. Where we sell drones in our shops, we will now add shelf tickets referring customers to the CAA guidance, and we will also reiterate this guidance to Partners who sell drones."
Selfridges:
"It is clear that the information provided to you on the usage of drones by one of our team members was not accurate. In order to rectify this situation, we will be re-training all team members who work within the spaces selling drones, ensuring they have a full understanding of current legislation and safety requirements."
Meanwhile Argos responded by telling us: "As a responsible retailer, we are committed to helping ensure safe drone usage and are working with our store colleagues to reinforce this message."
Maplin:
"As a business, we are extremely disappointed to hear these findings from LBC and will be investigating the claims further to ensure that the staff at this store adhere to the high standards we set, as Maplin prides itself on offering the most informed customer advice on the high street."
Currys PC World:
"Safe drone usage is our number one priority we're sorry to hear that upon a recent singular visit to one of our stores, LBC reporters were given the incorrect information regarding the use of drones. We work closely with the Civil Aviation Authority (CAA), and have produced a leaflet to help make the regulations as clear and easy-to-understand as possible for customers. Stores selling drones have been briefed to hand this leaflet out with each purchase."
Hamleys
We apologise if the response you received was unclear or misleading as our teams who sell drones are generally all aware of customer information leaflets we provide in store regarding drones and their use. We are investigating how this particular staff member was not equipped with all the relevant information. Not all toy drones are applicable to the CAA guidelines as they have limited height and distance to about 80m, but our aim is to always tell the customer to check the CAA drone website for current best flying practice and provide as much available information as possible in store.
HMV and Debenhams have yet to respond to our request for a statement.
British Airline Pilots Association's Flight Safety Specialist, Steve Landells, said: "It is disappointing to learn that, currently, not only do these outlets not seem to know the regulations, but are actually giving incorrect and potentially dangerous advice to customers.
"Pilots are concerned about the growing number of near misses with drones and the potential for catastrophe should a collision occur.

"BALPA believes drone operators, especially hobbyists, need to be made aware of the potential dangers of irresponsible flying.

"The CAA's 'drone code' aims to provide drone users with the information they need to fly them safely and we would also encourage that any sellers of this technology are also proactive in educating staff on the regulations.

"Any sellers of drones should be able to inform customers of the regulations – or at least point them in the direction of where to find them – and ensure customers are aware that ignoring these regulations could come with severe consequences, including a prison sentence."