Somerset shaken by 'explosive' 3.2 magnitude earthquake
5 December 2019, 23:54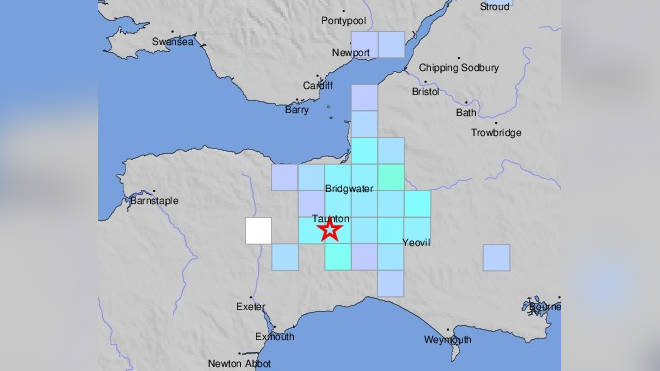 People in Somerset were rocked by a 3.4 magnitude earthquake that hit the county shortly before 11pm on Thursday night.
Tremors were felt in Yeovil, Bridgwater, Taunton and Cheddar as the earthquake hit the rural county at around 10:49pm.
Local people described hearing a "massive bang" as "whole houses shook" for roughly 2-3 seconds.
The source of the tremor came from around 5km beneath Bridgwater, the British Geological Survey confirmed.
One Twitter user wrote: "So it was an earthquake tremble we felt #earthquake #uk #somerset felt like someone had crashed into the house."
Others took it less seriously, posting gags highlighting the strength of the quake. One Twitter user posted a man collapsed outside a cider tent and wrote: "Casualties following Somerset earthquake."
The British Geological Survey confirmed "reports of seismic activity in the Somerset area" and said it would be "looking into this and will post an update shortly."
SEISMIC Alert: 5 December 2019

ORIGIN TIME: 22:49 18s UTC
LAT/LON: 51.109° North / 2.974 West
GRID REF: 331.8 kmE / 134.9 kmN
DEPTH: 5 km
MAGNITUDE: 3.2 ML
LOCALITY: Bridgwater, Somerset, UK pic.twitter.com/w3veo13G6v

— British Geological Survey (@BritGeoSurvey) December 5, 2019
Another local resident took to social media to say: "Just experienced my 1st #earthquake in #Barrington #Somerset. A definite rumble, the bed vibrated and my tea cups on the side rattled. My blood ran cold... it could have been a big lorry passing on the road outside but it felt like it came up from the foundations!"
One person said they "physically felt my bed shake" during the earthquake.
Residents took to social media to describe how there was a boom which shook their houses, with one person saying the quake had felt like their house had been hit by a lorry.
One user @nickyshier posted on Twitter: "We just had an Earthquake here in Somerset..thought a lorry had hit our house!"
Another @flutter61 added: "Earthquake felt in Taunton, Somerset tonight, thought something had hit the side of the house, made the windows shake, quite scary ??#earthquake."