Storm Dennis: Police find body of missing woman swept away by flood waters
17 February 2020, 19:08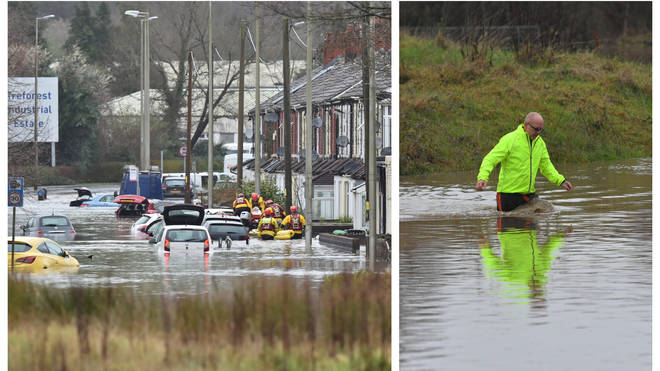 Police have found a body in the search for a missing woman who was swept away in Storm Dennis flood waters on Sunday.
West Mercia Police named the person, who was swept away in the River Teme near Tenbury Wells, Worcestershire, as 55-year-old Yvonne Booth from Great Barr in Birmingham.
Her family said in a statement: "Yvonne is a very much loved member of our family and we are all devastated by this news."
"We appreciate the continued support from the emergency services. We would like to ask for our privacy at this time."
Chief Superintendent Tom Harding from West Mercia Police added: "We are sad to report that a body has been found during our search and rescue operation in Tenbury.
"Whilst formal identification has not yet taken place we believe this to be Yvonne, who tragically was swept into flood water on Sunday. Specially trained officers have given her family this terrible news and are supporting them."
A man recovered from the water in the same incident was airlifted to hospital where he remains in a stable condition, police said.
Flood warnings remain in place across the UK after more than a month's rain fell in some places, with major incidents have been declared in Worcestershire, Herefordshire and Shropshire.
Over 400 properties were flooded, with south Wales, where a man died after being swept off a bridge, among the worst hit areas.
As of 11am on Monday, more than 500 flood alerts and warnings covered much of England, stretching from the North West to the South West.
John Curtin, executive director of flood and coastal risk management at the Environment Agency, tweeted that 420 properties were flooded, with 18,500 protected.
He said both figures were "likely to rise".
Environment Secretary George Eustice says the Government is "doing all it can," but said they would "never be able to protect every home."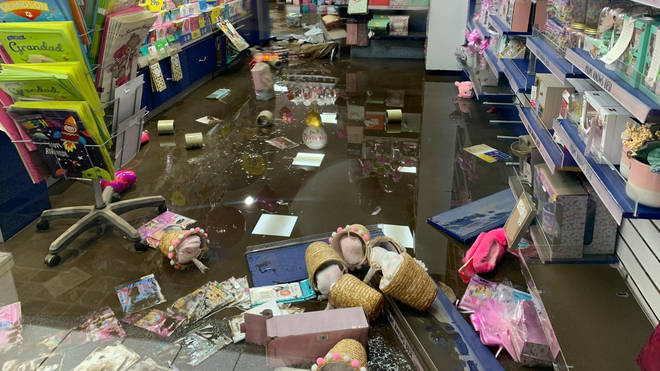 He told LBC's Nick Ferrari: "We know that there was one death yesterday from somebody in Wales who was swept off a bridge, that's all we have confirmation of.
"It's absolutely the case that these sorts of severe weather events are sadly becoming much more frequent.
"We'll never be able to protect every home, but the investments we've made over the last five years alone have protected over 600,000 properties.
"While it's no consolation to the 400 people who've suffered flooding in their properties in this most recent event, there have been around 20,000 properties that have been protected.
"We've spent around £2.5 billion on flood defences over the last five years and this Government is committed to increase that further to £4 billion on flood defence infrastructure over the next five years."
The bodies of two men were pulled from rough seas off Kent on Saturday as the UK was struck by a storm for the second weekend in a row.
Prime Minister Boris Johnson is yet to visit any of the areas affected by flooding, despite twice heading to places affected by adverse weather during the general election campaign.
He has also resisted calls to chair a meeting of the Government's emergency committee, Cobra, to tackle the crisis.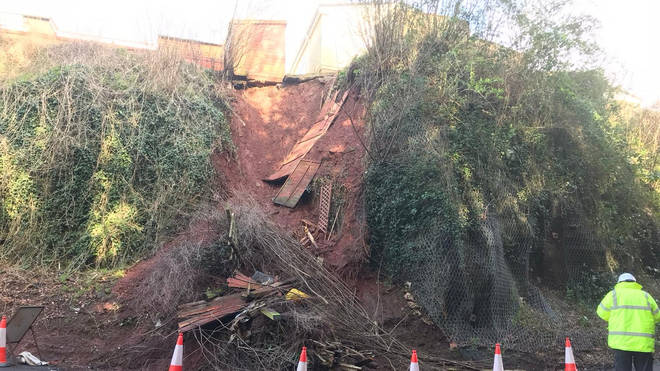 Mr Johnson is not expected to visit any flood-hit areas on Monday, but Downing Street said he was being kept updated about events as he worked from Chevening, the country retreat usually used by the Foreign Secretary.
A yellow wind warning also remains in place across much of the south west, the north and Scotland.
Road and rail disruption could cause chaos in rush hour, with many train lines suffering severe damage.
CrossCountry, Great Western Railway, Northern, South Western Railway, Southern, Thameslink and Transport for Wales were among the operators with delays and cancellations on Monday morning.
Rotherham Central station was closed until at least Tuesday due to flooding.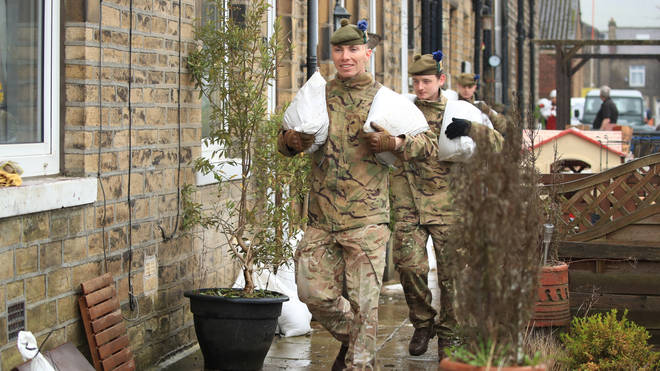 A fault with the signalling system in the Welwyn Garden City area also caused major disruption to services between Stevenage and London Kings Cross.
Surrey Police warned there would be "significant delays into the morning rush hour" as two out of three lanes of the A3 southbound between the M25 and Ockham were closed due to flood water from an adjacent field spilling onto the carriageway.
West Mercia Police urged motorists not to drive through flooded roads, warning that water levels are "still high in many areas across Shropshire".
Caroline Douglass, Flood Duty Manager at the Environment Agency, warned the fall-out from the storm could last into this week.
She said: "Storm Dennis will continue to bring disruptive weather into early next week, and there are flood warnings in place across much of England.
"We urge people to check the flood risk in their area and remain vigilant.
"We have teams out across England today, working closely with Police, Fire and Rescue, local authorities and partners to reduce the risk of flooding and keep communities safe.
"We have put up more than 3.5km of temporary barriers across the country and are ready to operate large defences as required.
"With the effects of climate change, we are seeing more frequent periods of extreme weather.
"It is important for people to be aware of their flood risk and stay safe by signing up for flood warnings, making a flood plan and remembering not to drive or walk through flood water – it's not worth the risk."