CCTV captures rogue trampoline blown across neighbourhood during Storm Dennis
17 February 2020, 13:48
A trampoline was caught on CCTV blowing across a neighbourhood during Storm Dennis.
Ben Cartwright, who lives near Dudley, posted a video showing a trampoline sneaking around his neighbourhood in the early hours of Monday morning.
The footage appears to show the bounce-based toy going rogue, scaling a garden fence and making its escape down the road.
Over the weekend Storm Dennis lashed the country with 90mph winds and delivering more than a month's worth of rain in 48 hours in some areas.
Writing on Twitter, Mr Cartwright said: "Storm Dennis does not like our trampoline..."
The Royal Society for the Prevention of Accidents said trampolines should be stored safely, particularly during winter months.
They added: "Tie down large trampolines - there are tether kits available that can be used for this purpose.
"With smaller trampolines, flip them upside down.
"Remove safety netting from enclosure or cage frames to reduce the sail-like qualities of the cages during windy weather."
Storm Dennis came just one week after Storm Ciara battered the UK. Although it was not as powerful as the previous weekend, Dennis brought torrential rain and sparked amber "danger to life" weather warnings form the Met Office.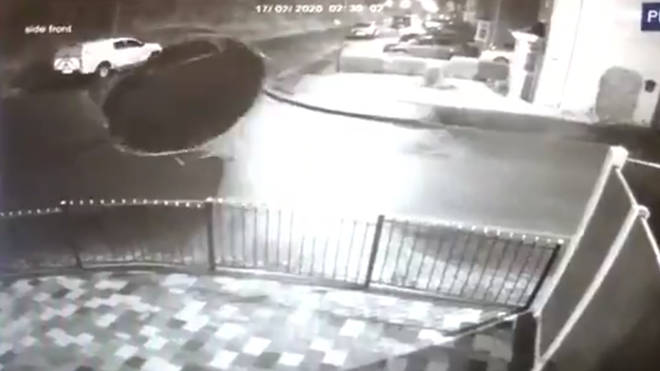 Flood warnings remain in place across the UK with major incidents in Worcestershire, Herefordshire and Shropshire.
Over 400 properties have been flooded, with south Wales among the worst-hit areas.
As of 11am on Monday, more than 500 flood alerts and warnings covered much of England, stretching from the North West to the South West.
A search is underway for a woman who is feared dead after being swept away by floodwater during Storm Dennis.
Officers say the decision was made "with a heavy heart" to call off the rescue mission, which is now a recovery mission, in the River Teme near Tenbury Wells, Worcestershire.
A man recovered from the water in the same incident was airlifted to hospital where he remains in a stable condition, police said.
Speaking to LBC's Nick Ferrari, Environment Secretary George Eustice said the government is doing all it can.
Adding: "We know that there was one death yesterday from somebody in Wales who was swept off a bridge, that's all we have confirmation of.
"It's absolutely the case that these sorts of severe weather events are sadly becoming much more frequent.
"We'll never be able to protect every home, but the investments we've made over the last five years alone have protected over 600,000 properties.
"While it's no consolation to the 400 people who've suffered flooding in their properties in this most recent event, there have been around 20,000 properties that have been protected.
"We've spent around £2.5 billion on flood defences over the last five years and this Government is committed to increase that further to £4 billion on flood defence infrastructure over the next five years."