Row breaks out as teachers block pupils from buying takeaways after school
4 December 2019, 10:30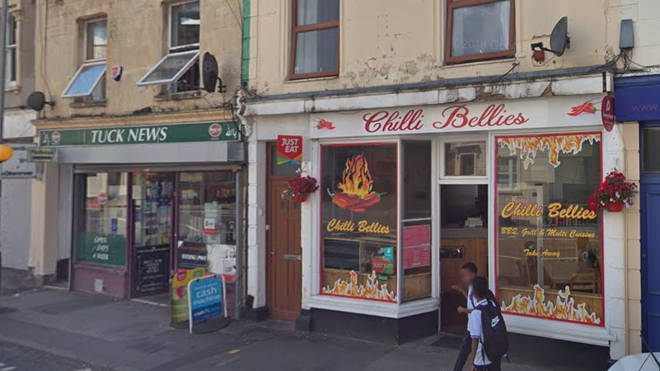 A takeaway owner has spoken of his outrage after he claimed teachers from a nearby school were standing "like bouncers" outside his shop preventing pupils from coming inside.
Neil D'Souza, the owner of Chilli Bellies, spoke to Nick Ferrari on LBC saying staff from Cotham school in Bristol have been stopping pupils from going inside and buying takeaways after school.
He said his takeaway is more than 500 meters away from the school, but many students pass by after leaving for the day, hungry for a treat on the way home.
He revealed school staff have tried to stop pupils visiting his establishment, saying "they stand like bouncers" outside his shop, with high-vis jackets and walkie-talkies.
When the shop owner was asked how he knew school staff were preventing children from visiting his shop, he told LBC "they have declared it in the school, in the assembly, that you are not allowed to go to any of the shops."
"They are all banned," the outraged shop owner said, adding "they physically stand outside my shop and prevent them [pupils] from coming in."
Shockingly he also revealed pupils who defy the teacher's orders are given detention, adding pupils have visited his store to tell him they have been kept behind after school, but that pupils simply come after the detention anyway.
Describing the impact to his takings Mr D'Souza said it was "affecting me quite badly."
The restaurant does a special deal for pupils, with chicken and chips for £2.00, "something for them to nibble on as they go home."
Mr D'Souza said the school had been patrolling the area for the last two years, but that was to help children to cross the road and supervise pupils in the street but that recently they had stepped up their action.
He said on one occasion teachers came into his shop and ordered pupils out while their food was being cooked, Mr D'Souza told LBC " it was embarrassing."
Local resident Kate Grant was one of the adult customers who tried to enter the shop. She said she also challenged the teachers.
"You've got two senior teachers in high-vis jackets standing outside a shop like bouncers," she said.
The school denied that teachers went inside, but admitted that staff 'supervise the parade of shops'.
School business manager Allison Crossland told Bristol Live teachers were using powers given to schools in the Education Act, which gives the authority over the conduct of pupils in certain circumstances outside the school gates and after the end of the school day.
Mrs Crossland said: "We supervise the parade of shops there and all the way from the school to the bottom of Nine Tree Hill, it isn't just these shops.
"It is only for half an hour from 2.45pm to 3.15pm, and it is done to ensure the safety of children on their way home from school."
The Education Act 2011 gives teachers the power to discipline pupils for misbehaving outside of the school premises "to such an extent as is reasonable."
Avon and Somerset Police confirmed they were called to reports of antisocial behaviour shortly after 3.10pm on November 28. They said they spoke to the parties involved and no offences were identified.