Teenager stabbed and tried to behead 12-year-old friend in 'brutal and horrific' murder
8 November 2021, 12:41 | Updated: 8 November 2021, 13:49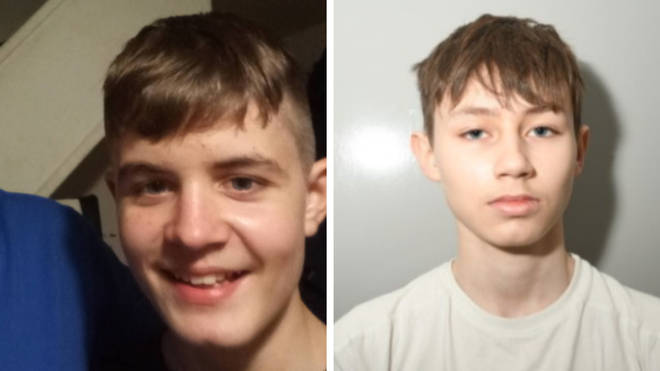 A teenager who murdered and tried to behead his 12-year-old friend after luring him to woodland has been jailed.
Marcel Grzeszcz, 15, was given a minimum of 16 years and 36 days after stabbing Roberts Buncis "in excess of 70 times" in Fishtoft, near Boston in Lincolnshire.
One of Roberts' wounds was "consistent with a decapitation attempt"and attempts had been made to amputate his hand, Lincoln Crown Court heard.
Following the "brutal, prolonged attack", Grzeszcz, who was 14 at the time, ran home and burnt the clothes he was wearing an attempted to hide the knife.
The teenager had admitted manslaughter but denied murder.
He claimed Roberts had taken the knife to the scene and that he "lost control" when the youngster attempted to stab him, but jurors rejected his claim he was "motivated by anger".
Mr Justice Jeremy Baker told him during sentencing: "When the two of you met up in the wooded area, I'm satisfied while the deceased was unarmed and unaware of what was to take place, you came armed with a large knife and with latex gloves intending at that time, at the very least, to cause him serious bodily harm."
The court heard how Roberts', who was killed just two days before his 13th birthday, was stabbed with such force that the tip of the knife was found embedded in his skull.
At the sentencing hearing today, a victim impact statement from Roberts' dad was read out to the court where he described his life as "empty".
He wrote: "How do I put into words how I feel? This is all wrong. No father should ever have to bury his son."
"I have lost my destination, my purpose.
"My life is in the cemetery.
"I feel empty, nothing will change this."
Detective Chief Inspector Richard Myszczyszyn, of the East Midlands Special Operations Unit, said: "This is an utterly tragic case. I would like to pay tribute to the people who loved Roberts, and had to deal with losing him in such brutal and horrific circumstances.
"Their support for our investigation has been unwavering, and their bravery has been an inspiration. Nothing could bring Roberts back, but our commitment was to try to find some semblance of justice for a grieving family and community.
"The act was utterly senseless and the consequences, devastating. It will be remembered by officers and staff as one of the worst and saddest cases we have ever dealt with.
"The level of violence, and that it involved children, makes it almost incomprehensible.
"The diligence and dedication displayed by the team who responded and investigated was a credit to our Force and hopefully of some reassurance to the community as they continue to come to terms with this distressing and disturbing incident.
"Roberts's future was stolen and that is an injustice that cannot be undone. We hope today's sentence might at least offer some closure to those affected.
"It's a stark and chilling lesson on the potential devastation of knife crime. If you, as a parent or a child, have any concerns about knives, please talk to us.
"We can all play a part in building a future free of such desperately sad and unnecessary loss of life. We will educate and engage on knife crime and we will continue to relentlessly pursue justice for victims; as we do so, we will remember Roberts."