Counter-terror expert warns of follow-up attacks after London Bridge stabbings
29 November 2019, 22:43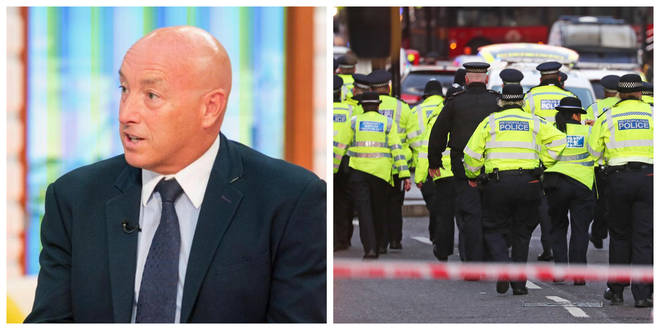 Counter-terror expert claims there could be "another terror attack" as early as "tomorrow" following the knife rampage at London Bridge.
Former Head of the National Counter Terrorism Security Office, Chris Phillips, told LBC News there could be a repeat of Friday afternoon's knife attack in the coming days.
At least two victims have died, along with the suspect who was wearing a hoax device, and three have been taken to hospital following the tragedy.
Mr Phillips said the simplicity of the attack meant "any idiot" could go and replicate it.
"Some recent things may have accelerated this: the upcoming election, Christmas, the death of Abu Bakr al-Baghdadi. Any of those alone could have inspired this," he said.
"We could have another one tomorrow to be frank."
The counter-terror expert claimed Friday's tragic incident involved "someone who had given this a degree of thought."
Mr Phillips commended the bravery of the emergency services and members of the public who reacted swiftly to the attack.
"The amazing thing is the response of people to jump on someone who might have had a bomb on them and risking their lives in doing so," he continued.
"Quite a few people acted in a brave way today. The fact that police officers dispatched of him so quickly show they thought he was a real threat.
"Thank goodness we have people who will take these people on. They deserve the highest praise."
Friday's stabbings come just three weeks after the UK's terror threat level was reduced from severe to substantial, a move the former counter-terror chief called "brave."
Mr Phillips said the Joint Terrorism Analysis Centre would be reviewing its intelligence and will adapt the terror level if appropriate.
He added: "JTAC won't put it up if its one person on their own. But it was a brave decision putting the threat level down and it will be brave to keep it down."
The former head of NaCTSO said the government's advice was to always run from such incidents as that offered the "best chance of living."
A higher presence of security can be expected in the capital over the next couple of days, he suggested.
"As a reminder people should always report these things to the police in order to prevent it from happening."