"If you don't want no deal, you have to vote for a deal" says Theresa May
19 October 2019, 13:43
Speaking in the Commons during its first Saturday sitting in 37 years, former Prime Minister Theresa May urged MPs to get on with Brexit.
After she made a rugby joke, the Conservative former prime minister told the Commons: "I hope the whole House will forgive me if I say standing here I have a distinct sense of deja vu."
Prime Minister Boris Johnson could be heard saying: "I know how you feel."
A shout of "rebel" echoed from the Tory backbench, to which Mrs May replied: "Well I intend to rebel against all of those who don't want to vote to deliver Brexit."
The former Prime Minister said today's vote was "important," she said the eyes of the wider world were on Parliament and on every MP in the House.
She said politicians had "responsibility in the decision that they will take to determine whether or not they're going to put the national interest first and not just an ideological or single issue or a party political interest, but the full wider interests of our constituents."
Mrs May said the decision MPs take will determine "not just the future of our country, and the future lives of our constituents, but I believe the very future of our politics."
She said MPs have to take a key decision, "do we want to deliver Brexit?"
"Do we want to deliver on the result of the referendum in 2016?"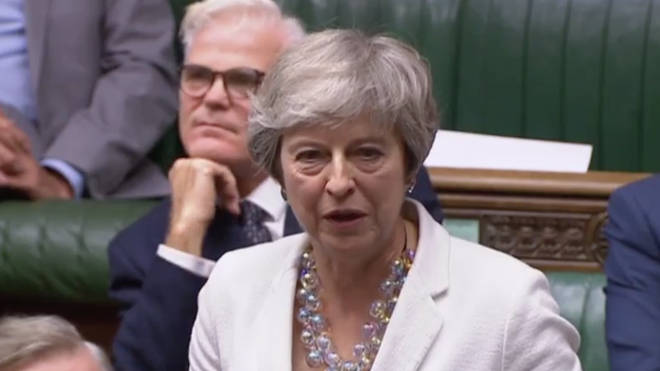 She added: "When we voted to trigger Article 50, did we really mean it? When the two main parties represented in this House stood on manifestos in the 2017 general election to deliver Brexit, did we really mean it?
"I think there can only be one answer to that and that is yes, we did mean it. Yes, we keep faith with the British people. Yes, we want to deliver Brexit."
Mrs May added: "If this Parliament did not mean it, then it is guilty of the most egregious con trick on the British people."
Mrs May said there could not be a second referendum "simply because some people did not agree" with the result of the first one.
Finishing her speech Mrs May said: "If you don't want no-deal, you have to vote for a deal. Businesses are crying out for certainty, people want certainty in their lives, our investors to be able to able to invest and want the uncertainty to got rid of.
"They want to know that this country is moving forward. If you want to deliver Brexit, if you want to keep faith with British people, if you want this country to move forward then vote for the deal today."

Watch the whole of the former PM's speech in the video at the top of the page.