Tory Party Conference: Thousands take to the streets in Manchester to protest
29 September 2019, 16:06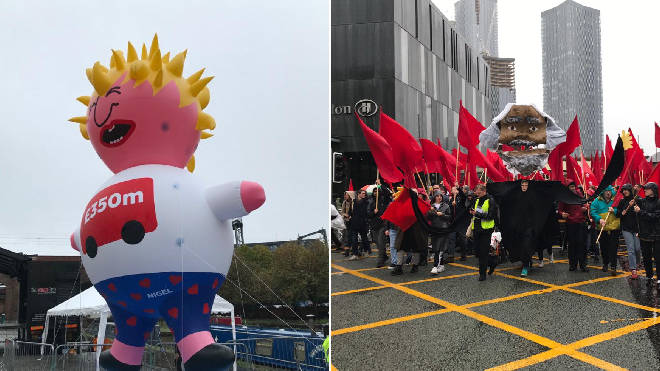 Thousands of protesters have taken to the streets of Manchester as the Conservative conference started.
Groups of demonstrators have taken to the streets in Manchester to protest against the Conservative Party conference which started in the city on Sunday.
Earlier the Labour mayor of the city has condemned an "unacceptable" banner appearing to call for the deaths of thousands of Tories.
The People's Assembly Against Austerity organised one demonstration using the slogan "Shut down the Tories!"
A spokesperson said protesters were calling for an "anti-austerity government that can really transform the lives of working people already ruined by years of austerity."
The Greater Manchester Police lead for the protests Chief Superintendent Wasim Chaudhry said tens of thousands of people were expected to attend the two rallies, as in past years when the Tories have held their conference in Manchester.
The force tweeted that officer would be in Machester to ensure the "safety & security" of those attending the conference.
A giant Boris Johnson blimp was inflated at Castlefield Bowl ahead of a Reject Brexit - Defend Our Democracy event on Sunday afternoon.
The six-metre tall inflatable depicted the Prime Minister dressed in blue shorts with red hearts and the word "Nigel" on, and a T-shirt showing a £350 million bus.
Demonstrators gathered on Oxford Road at about midday for a Shut Down the Tories event before marching through heavy downpours to Deansgate, where a rally was due to be held.
Speakers at the demonstrations included human rights campaigner Peter Tatchell, who told the crowd: "The time for party self-interest is over. Everybody from every party must unite to stop a no-deal Brexit."
Sir Richard Leese, leader of Manchester City Council, said: "The right to peaceful protest is a fundamental part of our democracy and we have seen that exercised on the streets of our city today.
"It's a testament to the work of Greater Manchester Police, council staff and others involved in ensuring today went as smoothly as possible, as well as campaign groups who engaged with us and those taking part, that these large-scale protests have passed off without incident."
Earlier, Greater Manchester Police were called to a banner was hung from a bridge appearing to call for the deaths of thousands of Tory activists.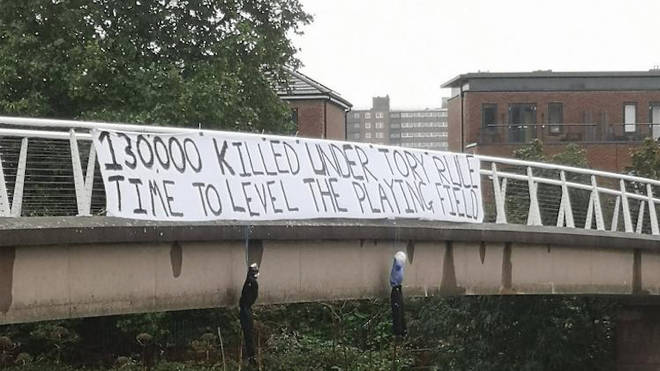 Officers say it's since been removed from the structure over the River Irwell, but have confirmed they are investigating to see if any crimes have been committed.
The Labour mayor, Andy Burham, saidToryes the message - which was revealed as the Conservative conference got underway in the city - was "completely unacceptable".