Trump Europe travel ban sparks fears of more coronavirus patients coming to UK
12 March 2020, 08:52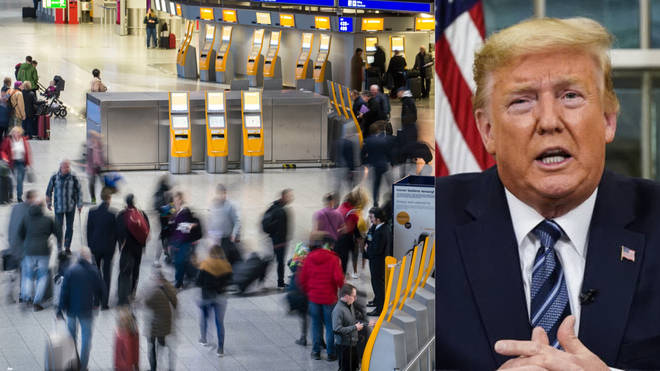 Donald Trump's announcement of banning flights from Europe, but not the UK, has sparked concern among Brits who think it could mean an increase in infected travellers.
On Wednesday night President Trump announced he was suspending all travel between the United States and Europe - excluding the UK and Ireland - for 30 days starting on Friday as he seeks to combat the coronavirus.
But the President's words have been met with concern by some who fear it could mean a large number of travellers from infected areas using the UK as a jumping off point to get into the USA.
Read more: Donald Trump announces 30 day European travel ban to stop coronavirus spread
Dickon Farmer raised concerns on social media about Europeans who would not fly to the USA via Britain.
so the US thinks that banning all flights from Europe apart from the UK will stop the virus reaching their shores....what about Europeans that now decide to fly VIA the U.K.???

And we in the U.K. are still just being told to wash our hands and sing Happy Birthday...???

— Dickon Farmar (@DickonFarmar) March 12, 2020
Coronavirus LIVE news: Government prepares for 'delay phase'
Journalist James Mitchinson pointed out that travellers could now use Heathrow as a connecting airport to get into the USA and evade Mr Trump's travel ban.
Absolutely nobody whatsoever wanting to go in and out of Europe from America will spot that all they have to do is use Heathrow as a connecting airport. Nobody.

— James Mitchinson (@JayMitchinson) March 12, 2020
Adel Darwish said he was concerned over the "danger" of Mr Trump's ban which could lead to "1000s of Europeans flying daily to UK to connect to flights to USA" which could spread more coronavirus.
Danger of Trump ban on flights from EU might lead to 1000s of Europeans flying daily to UK to connect to flights to USA spreading more #Coronavirusinfection here given the evident incompetence shown by our airports officials in dealing with flights arriving from Italy

— Adel Darwish (@AdelDarwish) March 12, 2020
DB said British airports would now become "breeding grounds" for Covid-19 with passengers travelling via the UK attempting to get to the USA.
UK Airport to be new breeding grounds for COVID-19 as Trump suspends flights from mainland Europe, except the UK, so everyone will now travel via the UK, genius.

— DB 𝕃𝔽ℂ ⭐⭐⭐⭐⭐⭐ (@dabu289) March 12, 2020
Karry said President Trump's plan had one "flaw" which was not restricting travel from the UK as it could still act as a vector allowing the virus to spread in the USA.
One flaw in Trump's ban on flights from mainland Europe ... People can come across to UK and fly from here still taking the risk of the virus with them over to USA ... Or am I missing something??

— Kerry (@KerryCurious) March 12, 2020
Ross criticised the President because he believed it would encourage more people to come to the UK, possibly bringing the virus with them.
Yo thanks trump for encouraging people from other European countries to come to the UK and Ireland for connecting flights to the US instead of just bringing Coronavirus straight there

— Ross (@MythicalRoss) March 12, 2020
Mr Trump made the announcement in an Oval Office address to the nation, blaming the European Union for not acting quickly enough to address the outbreak of the virus and saying US clusters were "seeded" by European travellers.
"We made a lifesaving move with early action on China," Mr Trump said. "Now we must take the same action with Europe."
Mr Trump said the restrictions would not apply to the UK. A list of 26 affected countries published on the US Homeland Security website also confirmed Ireland was not among nations subject to the ban.