UK coronavirus cases rise to 164 with two confirmed dead
7 March 2020, 00:25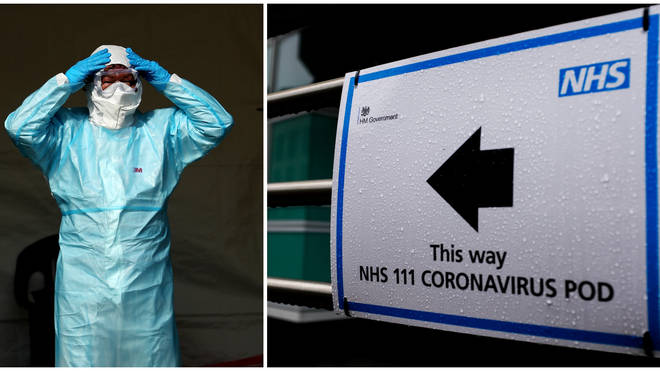 The number of people in the UK with coronavirus is now 164, it has been confirmed.
The Department of Health confirmed the latest figure, up from 116 people who had been confirmed to have the virus yesterday.
In total, 20,338 people have been tested in the UK.
On Friday evening, A fourth coronavirus case was identified in Northern Ireland, bringing the UK's total infections to 164.
The adult patient had recently travelled from Italy and is linked to a previously confirmed positive case.
The region's chief medical officer Dr Michael McBride said: "Further positive cases have been expected and we anticipate the number will increase in the days and weeks ahead.
"Northern Ireland remains in the containment phase and it is important to emphasise that. This will obviously be kept under constant review."
Earlier today, it was reported that a second patient, believed to be a man in his seventies, died after contracting the disease.
Healthy Secretary Matt Hancock confirmed the death in an interview with ITV.
He said: "I'm very sorry to hear the news of a second death here in the UK of someone with coronavirus.
"Again, the patient was older, and had underlying health conditions, but my condolences go out to the family and to his loved ones.
"We are working round the clock to keep people safe and get the best possible response in this country."
On Thursday, the first confirmed fatality was recorded in Reading, after an elderly woman contracted the illness whilst suffering from a number of health complaints.
Worldwide, the number of infections has surpassed 100,000, with the World Health Organisation warning: "This is not a drill."
Last week, a British tourist who had been on board the Diamond Princess cruise ship, which was quarantined in Japan, became the first UK citizen to die from the virus.
Meanwhile, Health Secretary Matt Hancock has said the Government is working with supermarkets to ensure food supplies as the number of people self-isolating is expected to rise.
He sought to reassure the public following panic-buying in some areas, with supermarkets seeing their shelves cleared of essentials such as toilet roll and paracetamol.
Mr Hancock said: "The Government has supplies of the key things that are needed, and, within the food supply, we are absolutely confident that there won't be a problem there.
"And, crucially, we are working to makes sure that if people are self-isolating, they will be able to get the food and supplies that they need."
He said there was "absolutely no need" for individual people "to go round buying more than they need."
Downing Street said the Department for Environment, Food and Rural Affairs (Defra) had regular meetings with the food industry to discuss risks to the supply chain, with a working group due to meet on Friday.
New blog posts from Public Health England (PHE) suggested people may need to get supplies for loved ones in future if social-distancing measures are brought in and more people are told to stay at home.
The posts urged people to "plan ahead", adding: "Everyone has a part to play, and we're asking people to think about what they do in a typical week, how they could limit contact with others if asked to, and how they could help people in their community who might need support if certain social-distancing measures were put in place.
"This might include helping older relatives and neighbours to get some food in, so that they would have supplies for a week or so if required, ensuring someone would be available to go shopping for them, or arranging for online delivery if they needed it."
Meanwhile, 142 people from the UK - including 121 passengers and 21 crew - are among 3,533 people on the Grand Princess cruise ship currently quarantined off the coast of California.
Princess Cruises said it was following advice from the US Centres for Disease Control and Prevention (CDC) and samples were collected on Thursday from 45 people deemed to be at risk.
It said in a statement: "Following guidelines received from the CDC, all guests have been asked to stay in their staterooms while test results are pending.
"Guests are receiving meal deliveries in their staterooms by room service, and additional television and movie options have been added to in-room programming."
The cruise ship made a round trip from San Francisco to Mexico last month, after which a cluster of coronavirus cases were identified.
After the liner docked in San Francisco on February 21, thousands of passengers disembarked and thousands boarded. The boat then sailed to Hawaii.
Chief medical officer Professor Chris Whitty has said half of all coronavirus cases in the UK are most likely to occur in just a three-week period, with 95% of them over a nine-week period.