University staff to strike for an 'unprecedented' 14 days in pensions row
20 February 2020, 08:50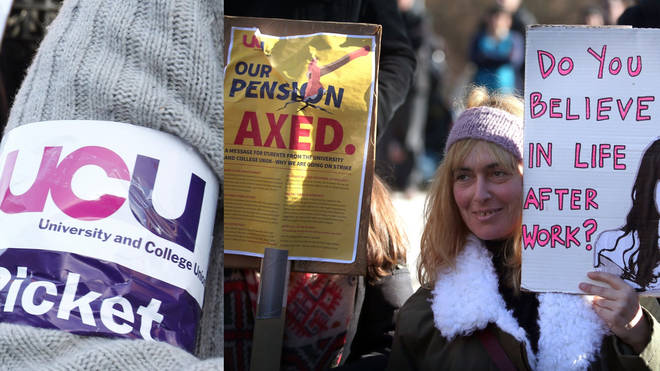 Seventy-four universities across the UK will be hit by an unprecedented number of strikes as staff walk out in a row over pensions.
The University and College Union says its members will strike between 20 February and 13 March and has estimated more than a million students will be affected.
The number of universities being hit by the action is the largest since a nationwide two-day strike in 2016, while the number of strike days is unprecedented.
This latest strike follows eight days of industrial action in November and December.
Industrial action was previously held in February and March last year, meaning some students face disruption for the third time.
The UCU says 50,000 of its members will take the action over workloads, pay, a 15% gender pay gap, increased casualisation and changes to pensions for staff in the Universities Superannuation Scheme (USS).
UCU general secretary Jo Grady said: "It is incredibly frustrating that UCU members are being forced to walk out again to secure fair pay, conditions and pensions. This unprecedented level of action shows just how angry staff are at their universities' refusal to negotiate properly with us.
"If universities want to avoid further disruption then they need to get their representatives back to the negotiating table with serious options to resolve these disputes."
Those taking part in both UCU disputes are Heriot-Watt University; the Open University in Scotland; University of Dundee; University of Stirling; University of Edinburgh; University of Glasgow; University of St Andrews; University of Strathclyde, and University of Aberdeen.
Glasgow Caledonian University, Glasgow School of Art and Queen Margaret University are involved in the pay and conditions row, while the Scottish Association for Marine Science is taking part in the pension-related action.
The pensions row relates to changes to the Universities Superannuation Scheme (USS).
A spokesman for Universities and Colleges Employers Association (UCEA), representing the universities in the pay dispute, said: "Universities are deeply disappointed to see UCU trying to press ahead with their HE Committee's plans for extensive strike action.
"UCEA has offered UCU further informal talks and urges the union's leaders to reconsider pursuing damaging strike action at less than half of universities, damaging students, staff and their own members - who are yet to be consulted over the new positive proposals that are on the table.
"These proposals address the important issues around employment in universities, focusing on casual employment, workload/mental health and gender pay gaps/ethnicity pay."