'Britain's worst female paedophile' Vanessa George released from prison
18 September 2019, 19:11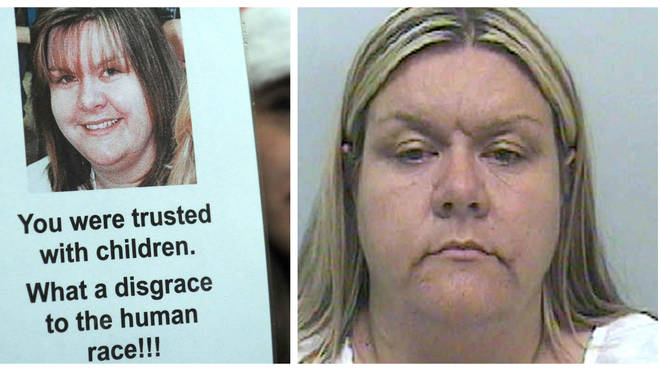 A paedophile nursery worker who was jailed indefinitely for abusing babies and toddlers at her workplace in Devon has been released.
Vanessa George, 49, was released on Wednesday after ten years behind bars for abusing up to 180 children that she had contact with at Little Ted's Nursery in Plymouth.
She was told at the time of her sentencing in 2009 that she would serve a minimum of seven years for her crimes, and was found by a Parole Board earlier this month to no longer be a significant threat to the public.
The 49-year-old, who has refused to name all of her victims, will remain under "strict license conditions" and is banned from Devon and Cornwall.
According to chief probation officer Sonia Crozier, who wrote an open letter to reassure the community after news broke of the release, George "is subject to a number of conditions".
She wrote: "[George] will never be allowed to work with children again and will be on the sex offenders' register for the rest of her life.
"She is subject to a number of conditions, including not to have unsupervised contact with any children whatsoever.
"If she breaches any of these conditions or if her probation officer thinks there is an increasing chance she might re-offend, she can be immediately recalled to prison."
Vanessa George should not be released but today she walks free, released early. She should be behind bars for her crimes and her continued refusal to name the children she abused. This is a dark day for justice. #plymouth pic.twitter.com/uLx98wTMeH

— Luke Pollard MP (@LukePollard) September 18, 2019
But these reassurances appeared to do little to calm local anger, with the MP for the area where George committed her crimes saying it was "a dark day for British justice."
Luke Pollard MP, who serves Plymouth Sutton & Devonport, said he was "disgusted" by the news, adding that her refusal to name all of her victims should be reason to keep her in jail.
He said: "The victims and their families now have a life sentence ahead of them of not knowing whether it was their child who was abused or not.
"Vanessa George chose not to end the suffering of these families or give them any certainty. She should not be released because she has not named her victims."
Mr Pollard went on to speak on behalf of his constituents, who he said "share in my anger, frustration and disgust."
"I firmly believe that Vanessa George should be behind bars, not walking our streets. This is a dark day for British justice."
Meanwhile, an unnamed parent who is unclear if his daughter was one of George's victims told The Sun: "If I see her, I will kill her, all bets off. Even if my daughter wasn't [one of the ones abused]."
"I was disgusted [by the verdict]. The whole process from start to finish - even up to today - has been a mess."
The Parole Board has said it will consider any requests for exclusion zones on George to avoid any victims accidentally running into the serial offender.