Video Of Andy Carroll Being Chased In Attempted Robbery Released
1 September 2017, 14:17 | Updated: 1 September 2017, 14:27
A 23-year-old man was jailed today for trying to take the West Ham footballer's £22,000 watch.
Jack O'Brien, 23 of Ivhyhouse Road, Dagenham was sentenced today at Basildon Crown Court to 11 years and three months in prison for attempted robbery and burglary.
On Wednesday, 2 November last year O'Brien and another person chased Carroll on motorbikes after telling him to hand over his watch.
During the trial Carroll told the court he feared for his life as he believed O'Brien had a gun.
Following today's conviction of O'Brien police released CCTV of the dramatic pursuit.
The video shows O'Brien and a second person chase Carroll, who is driving a green Jeep, through Essex. At one point Carroll drives along the centre of the busy road, narrowly missing a car and an oncoming bus as the two men pursue him.
The incident started just after midday when Carroll was leaving the West Ham training ground. He was waiting at a red light when one of the bikers pulled up next to him and admired his watch, worth £22,000, before saying "give me the watch" while making gestures to suggest he had a gun. While this happened the other rider tried to block Carroll's car.
However, the striker was able to getaway when the lights turned green. He then called the police.
The two bikers chased him along Wahlebone Lane North but eventually gave up and rode away empty handed.
Detectives were able to obtain CCTV of the chase and linked O'Brien to other offences by the distinctive helmet and jacket he was wearing.
O'Brien was arrested on November 12 and was identified by Carroll during an identity parade the next day.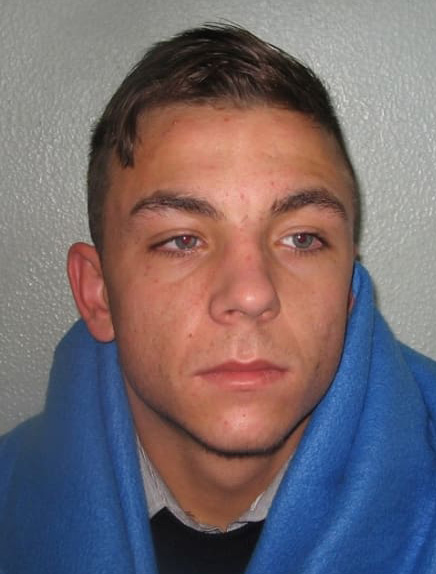 Jack O'Brien.
Detective Sergeant Brett Hagen, who was the Senior Investigating Officer in the case, said: "This was a welcome but entirely expected guilty verdict due to the compelling and overwhelming evidence against the defendant, Jack O'Brien. The moving footage of the vehicle chase shows the persistent and reckless lengths this man went to in order to try to steal a high value watch.
"I would like to thank the victim who showed great courage and calmness throughout this terrifying robbery attempt."
O'Brien had previously pleaded guilty to residential burglary, attempted burglary and handling stolen goods in the Essex and Hertfordshire areas.
The second suspect in the case remains at large.