Watch: Business in Hebden Bridge takes flood defence to a new level
20 February 2020, 10:02
One business in the flood-hit town of Hebden Bridge in West Yorkshire has taken matters into their own hands when it comes to defence from rising water levels
The owners of the Book Case have created a sign, which looks like a normal one until called into action.
With the press of a button, a hydraulic system kicks in and transforms the sign into a flood barrier covering the windows and door.
According to The Book Case owner, Kate Claughan, the sign works. She said the sign has already protected the window, which has previously been blown out due to bad weather.
The shop has previously been flooded four times but Kate says the new sign makes a big difference.
Around 1,200 residential and business properties across the region were flooded during Storm Ciara, which hit the region earlier this month leaving towns and villages underwater.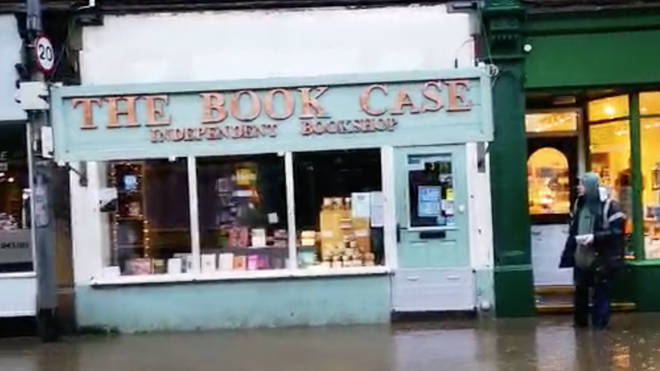 Meanwhile, parts of the UK which have already been saturated by heavy rainfall and flooding are braced as forecasters warn of further wet weather.
The Met Office said more weather warnings are likely on Friday with heavy rain expected across western Scotland, Yorkshire and parts of Cumbria.
Gusty winds are also expected to strengthen at the end of the working week.
The Environment Agency (EA) said there were 106 flood warnings in place for England on Thursday morning, including six severe warnings indicating lives were in danger in communities near the Welsh border.
An insurance company has said it is expecting to pay out around £20 million in claims for damage caused by Storm Ciara as communities handle the aftermath of Storm Dennis.
NFU Mutual, which insures many homes and businesses in rural areas, has received more than 2,800 claims in the wake of Storm Ciara and a further 1,000 related to Storm Dennis.
Following widespread flooding in Yorkshire and the Midlands in 2019, the Association of British Insurers (ABI) estimated claims would cost insurers up to £110 million.