Watch the moment a baby girl has her hearing aids turned on
6 December 2019, 19:44
Watch the heartwarming moment a severely deaf four-month-old girl has her hearing aids turned on.
Every morning, young Georgina Addison from Harrogate is all-smiles when she has her specialist hearing aids turned on.
Her parents, Paul and Louise, recorded their severely deaf daughter's reaction to the moment where her world gets a little bit louder.
Mr Addison uploaded the video to Twitter and was "delighted" by the reaction after it amassed nearly 400,000 views.
Speaking to LBC News, Georgina's father said: "What's so especially delightful is that you get tonnes of comments about how happy she looks, how healthy she looks and how much of a difference it makes getting the intervention."
The four-month-old girl was diagnosed with sensorineural hearing loss - meaning she is severely deaf - just one month after being born in August.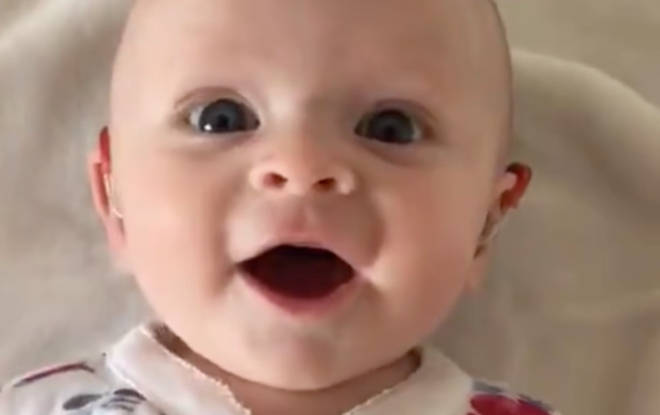 Paul Addison said it was "difficult" learning that his daughter would have trouble hearing, however he and Louise went "into practical mode" in order to "make life as easy as possible" for their child.
But, her dad said receiving the hearing aids has helped ease the initial shock of the "bad news."
"What more could you want after getting a bit of bad news? Just a few months later people are celebrating her uniqueness which is really special," he added.
"She's sitting here right now about to have dinner. She has no idea what's going on but she is very happy."
Georgina will need to wear the hearing aids for the rest of her life, but her father said they will make "a considerable difference" as she "would not be as attentive or focused without them."
The young girl may need more intervention at a later date and is currently undergoing tests, carried out by the University of Manchester, in order to help future generations of children diagnosed with the same condition.