Wetherspoons hit by pigs in blankets shortage after Brexit warning
18 December 2019, 11:58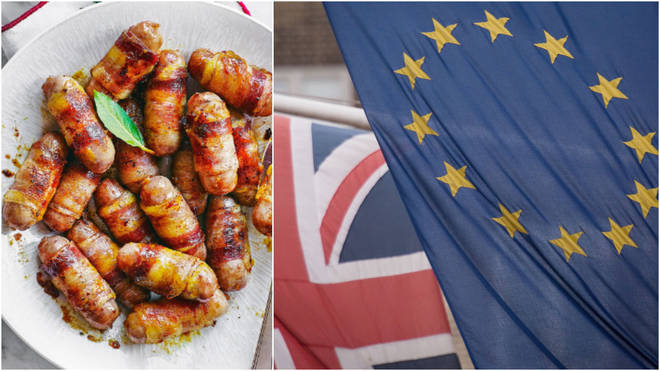 Pub chain JD Wetherspoon has been hit by a shortage of pigs in blankets just weeks after a warning they would be in short supply due to Brexit.
Customers in Wetherspoons have been left upset after their meals were served with blanketless pigs.
Disappointed diners took to social media to complain about the lack of bacon on their Christmas pigs in blankets.
Recently a meat industry association warned that Brexit would impact on the availability of "fiddly" foods because EU workers no longer wish to come to the UK.
61 per cent of Brits said their Christmas dinner would be incomplete without pigs in blankets.
The pub chain was quick to point out the shortage was only for one day, and not all of their 875 pubs were hit by the drought.
Wetherspoons spokesman Eddie Gershon said: "It wasn't across all 900 pubs and it was only for a day or so.
"There is no shortage of meat. The suppliers in the UK had the bacon and the sausages but didn't have enough labour to put the blankets on the pigs.
"It was nothing to do with supply, it was to do with labour.
"There was a stop in some supplies, they got the sausages in without the blankets."
The British Meat Processors Association previously warned the UK was not attracting enough EU workers, which it said could have a detrimental impact on the supply of "fiddly" items, such as pigs in blankets.
One Twitter user said they were no chef, but "I'm pretty sure my pigs in blankets are meant to come with the blankets."
Chief executive Nick Allen said it has been "hard to hold onto European labour" due to Brexit, which could have a negative impact on foods that are "fiddly and hard to mechanise".
Warning on Twitter that there would be a more demand over the festive period, with a 10-15 per cent increase which the association said cannot "simply be filled with UK nationals."
They said that between 65 per cent and 80 per cent of meat plant workers come from the EU.
The BMPA said the industry had been "heavily reliant on EU workers for about 15 years."