Extinction Rebellion London 'shutdown': all you need to know about next week's action
3 October 2019, 17:47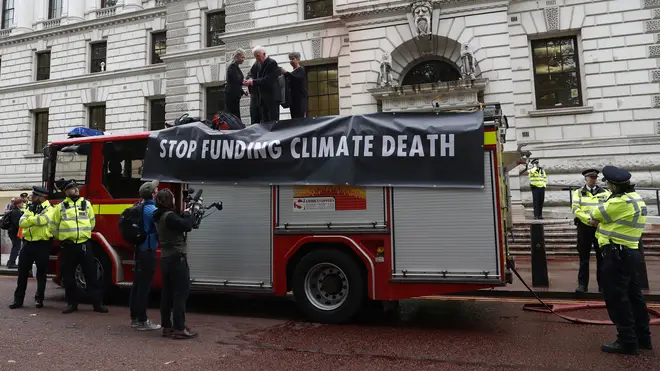 Extinction Rebellion has revealed its plans to shut down London from next week
The group aims to bring the area around Government to a halt through demonstrations expected to be five times bigger than those in April.
As part of a two week "Autumn rebellion" against the climate crisis, Extinction Rebellion outlined its plans for an "international uprising".
It comes just after Extinction Rebellion sprayed the Government Treasury building in Whitehall with 1,800 litres of fake blood earlier today.
The socio-political environmentalist group plans to blockade 12 key sites around Westminster and to use civil disobedience at sites across the city.
These key sites include Trafalgar Square, Westminster Bridge, Parliament Square, as well as the areas outside key Government departments, such as the Department for Environmental and Rural Affairs, Business, HMRC, and the Home Office.
The group's aim is to hold the 12 sites for as long as possible - maybe even beyond the 12 days - and to bring the area around Government to a halt.
Maps released by Extinction Rebellion show that regional groups will be responsible for action at individual sites.
For example the South West group will take control of Lambeth Bridge, whilst the North West group will be based around the Department for Environmental and Rural Affairs.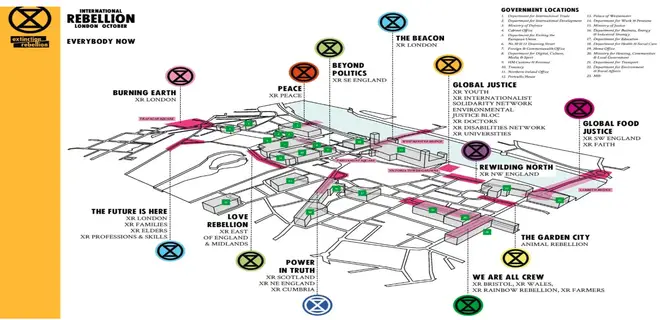 At a press conference today, a spokesperson for the activist group said: "We're going to blockade and shut down every single road going into Westminster and the [sites of the] UK government.
"If a government is taking us to extinction, it is not a government we respect."
Absolutely packed out Extinction Rebellion press briefing in central London ahead of their October 'shutdown'. Must be 100 journalists here pic.twitter.com/Io0wDqGckq

— Josiah Mortimer (@josiahmortimer) October 3, 2019
How long will it last and how many people are taking part?
The disturbance is expected to take place for two weeks from Monday 7th - Friday 18th October.
Extinction Rebellion says 9,500 people have actively signed up, but they expect between 20-30,000 participants to get involved over the course of the 12 days.
Organisers believe it will be at least five times bigger than the numbers that turned out at demonstrations in April, that were heavily based around Oxford Circus.
Furthermore, the group says they have more than 2,000 people signed up prepared to go to prison, more than 4,000 prepared to be arrested and 1,700 willing to go on hunger strike.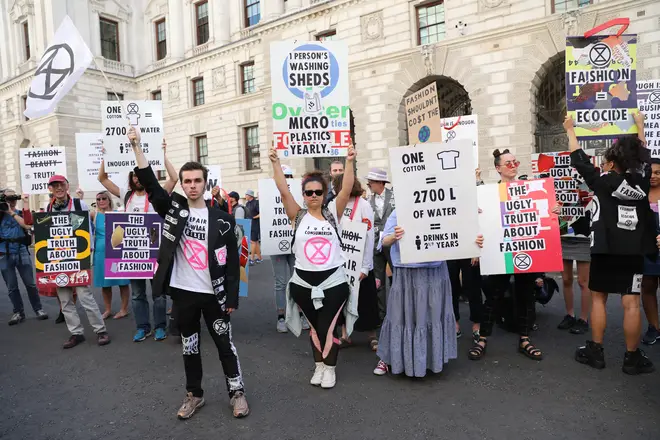 There will be camps across the city to provide a refuge for thousands of rebels over the two weeks.
The activists say the protests will be "decentralised": "No one and everyone is in charge."
"You can't behead this rebellion. If you chop down one site, we revolve, thousands prepared to step into support roles – you need to take all of us down if you want to take any of us down."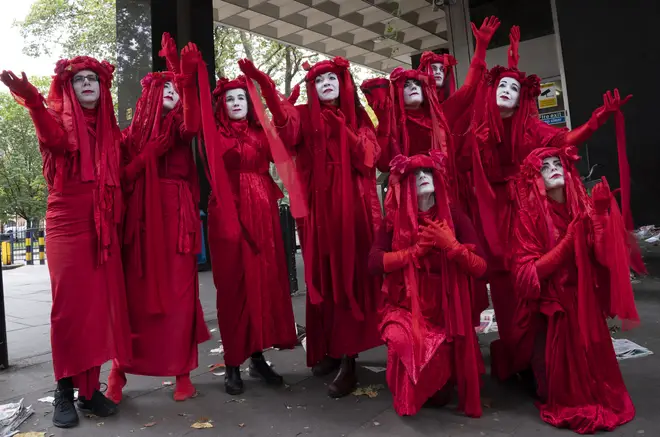 Next Wednesday, there is expected to be a procession in solidarity with the global south and the 164 assassinated activists last year.
Next Thursday, campaigners will attempt an "Act Now" peaceful sit-in at City Airport, which they will try to hold for three days
A huge march is also expected to take place through central London next Saturday.
Internationally there will also be direct blockading actions by Extinction Rebellion groups in Australia, Madrid, Amsterdam, Berlin, Paris, New York, Washington and Buenos Aires.
At similar mass demonstrations by the group in April about 1,100 people were arrested and the policing operation cost £16m.
Specialist police teams will be deployed to deal with the planned two weeks of environmental protests.
The Met was criticised by politicians in April after protesters used such tactics to block four key locations in central London.
The Guardian reported that at a briefing at Scotland Yard on Wednesday, Nick Ephgrave, an assistant commissioner, said: "I think what we learned from Easter was that we need to be agile, we need to be probably slightly more proactive and more ready in anticipation of what we might expect.
"That was the lesson we learned from Easter … we need to react swiftly. We need to be as proactive as we reasonably can, on what we know, and be prepared to change and shift."