World AIDS Day: Parties pledge full access to PrEP in 2020
1 December 2019, 17:57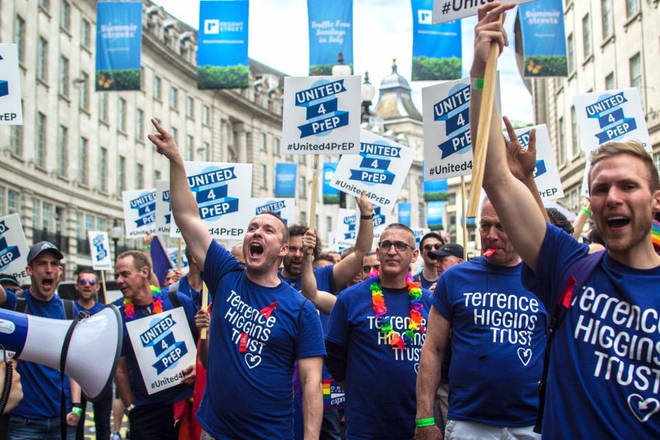 Several political parties have pledged extra funding to roll out the HIV prevention drug PrEP in 2020.
It comes as charities, governments and NGOs commemorate World AIDS Day - first started in 1988 to raise awareness of the spread of AIDS caused by the HIV virus.
Labour have pledged to increase funding for local authorities by £1billion per year to improve access to sexual health services.
Sharon Hodgson, Labour's shadow Minister for Public Health, said: "No one should be turned away from this revolutionary drug in the fight against HIV."With access to PrEP, HIV is an entirely avoidable infection that can be prevented.
"It is vital that people have control over their sexual health, which is why Labour will roll out PrEP treatment across England.
"We will also increase the public health grants to local authorities by £1billion per year, ensuring sexual health treatment is available to everyone who needs it."
The Liberal Democrats say they are committed to ending AIDS by 2030 - a global goal - and claim they will ensure sexual health services are properly funded.
@LibDems are committed to meeting the Global Goal to end AIDS by 2030.

🔸Everyone who needs PrEP has access to it for free

🔸Sexual health services are properly funded https://t.co/mJO8dBZVE1

— Lib Dem Health and Social Care 🔶 (@LibDemHealth) December 1, 2019
PrEP is being made available to 10,000 people in England as part of the IMPACT trial, which started in September 2017, but in Scotland the treatment was rolled out on the NHS from July 2017.
In clinical trials - which are currently set to end in late 2020 - PrEP has been shown to reduce the risk of sexually transmitted HIV by 75-86%.
Today the Terrence Higgins Trust is calling for zero new HIV transmissions by 2030 and claim proper access to PrEP would make a significant difference in taking the UK towards this goal.
Ian Green, Chief Executive at the Trust, said: "PrEP remains the missing piece of the toolkit that can that can help us end new HIV transmissions in England.
"We welcome the pledges by several political parties to provide routine access to this HIV game-changer. It is a scandal that a number of gay and bisexual men have been diagnosed with HIV while on waiting lists for the PrEP trial.
"Across England we are seeing trial sites becoming oversubscribed, with some closed to further recruitment which is putting more men at increased risk of HIV.
"This underlines the urgency of PrEP provision in England and why the next government needs to take immediate action on this."
Arguments continue over who should provide the service in England, with NHS England going to the High Court in 2016 to argue that local authorities - who oversee public health budgets - were responsible for preventive care including PrEP.
NHS England and the government have resisted rolling out PrEP because of the cost, but campaigners argue it is far cheaper than a lifetime of HIV treatment.
Lloyd Russell-Moyle, who last year became the first sitting MP to reveal his HIV status in the House of Commons, said: "Young men have needlessly contracted HIV as a direct result of this government's policies on HIV.
"So when they say they want zero HIV transmission by 2030 I judge them on their actions and not on their hollow words."
In September former Wales rugby Captain Gareth Thomas revealed he is HIV positive, saying he wants to "break the stigma" around the condition.
How does Pre-exposure Prophylaxis (PrEP) work?
PrEP is an HIV prevention strategy where HIV-negative patients take anti-HIV medications to reduce their risk of becoming infected.
The medications work to prevent HIV from establishing infection inside the body and studies have shown it to dramatically reduce the risk of HIV infection for vulnerable groups - including gay and bisexual men, transgender women, and heterosexual men and women.
It does not protect against other sexually transmitted infections or pregnancy and does not act as a cure for HIV.