Your morning briefing, Wednesday 27 November
27 November 2019, 06:40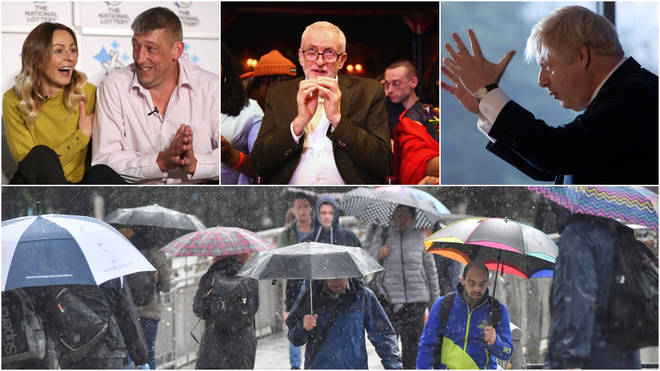 Good morning, here's all the UK and world news you're waking up to on Wednesday.
Well, it's hump day again and here we are with the morning news briefing, helping you to start your day right. It's EJ here bringing you the best of yesterday's news, and look ahead at today's events.
General Election - 15 Days To Go
As polling day gets closer both main party's campaigns have been dogged by claims of discrimination. The UK's Chief Rabbi came out yesterday and said Jeremy Corbyn was not fit to be Prime Minister, while later in the day the Muslim Council of Britain says the Tories appear to have turned a "blind eye" to discrimination.
Earlier this year, the Conservatives promised to carry out an inquiry into Islamophobia - but the Prime Minister admits that hasn't happened yet.
Later today both will try and shift the focus away from the claims which have dominated the news agenda and try to focus on other matters. Mr Corbyn will hit the campaign trail again making a major announcement on the NHS, while the Tories are promising poor mobile phone signal will be a "thing of the past."
SNP Leader Nicola Sturgeon will use a speech later to launch the party's manifesto, promising to "protect Scotland from Boris Johnson."
Warning that "Brexit is nowhere near being done", Ms Sturgeon will say that "there is worse to come"  if Boris Johnson is not stopped – with his proposed Brexit deal a "nightmare" for Scottish jobs, environmental standards and workers' rights.​
Yesterday, the Lib Dems launched a "war on plastic," making a raft of promises to stamp out single-use plastics if they are elected.
LGBT Lessons
The headteacher of a school at the centre of an LGBT protest row has praised a court's decision to ban noisy demonstrations in the area.
Anderton Park Primary School was thrust into the spotlight earlier this year after parents complained about relationships teaching at the school.
The ban, handed down at the High Court in Birmingham on Tuesday, includes a pre-existing exclusion zone surrounding the buildings.
Head teacher Sarah Hewitt-Clarkson said she was "happy" after the ruling, telling LBC News: "It was thrust upon us, but I don't mind that."
Jordan Out Of Cash
Katie Price has been declared bankrupt at a court in London.
The former glamour model, 41, had revealed she has spent her entire £45million fortune. She avoided bankruptcy last year after reaching a deal with creditors.
Last month a judge in London gave the go-ahead for her to be served with another bankruptcy petition.
Judge Jonathan Middleton, sitting at a specialist insolvency and companies court, said: "I do judge Ms Price to be bankrupt."
Drone Alert
Fewer than half of the estimated 90,000 drone users in the UK have so far signed up to a new register.
That's despite potential fines of a thousand pounds for those who haven't done so by Saturday.
The Civil Aviation Authority says 40,000 people have registered since the system opened earlier this month.
Weather - Umbrella O'Clock
Headline: Rain or showers for most. Drier and colder by Friday.
Today: Areas of rain or showers for many, the rain becoming more focused across parts of northern Scotland and eastern England but with scattered heavy showers elsewhere. Some sunnier breaks, mainly in western areas of the UK. A little less mild.
Tonight: Rain in parts of east, northeast and central Britain, with a scattering of showers in coastal areas elsewhere. Windy in northern areas and turning colder there with patchy frost.

And Finally... £105 MILLION!
If there's one thing I can guarantee it's as soon as you get a lottery winner in front of a camera the first question any journalist wants to ask them is will they give up their job.
The answer is always no...
Steve Thomson, 42, and his wife Lenka, 41, from Selsey in West Sussex have been named as the winners of a £105 million jackpot.
And, as I told you, Steve isn't giving up his job. The father-of-three said he would not be giving up his job as a builder immediately and added: "Once I am over the shock I will need to keep doing something, I am not the type just to sit still. My business partner knows that if he needs a hand, I'll be there."