Your morning news briefing, Monday 16 December
16 December 2019, 06:34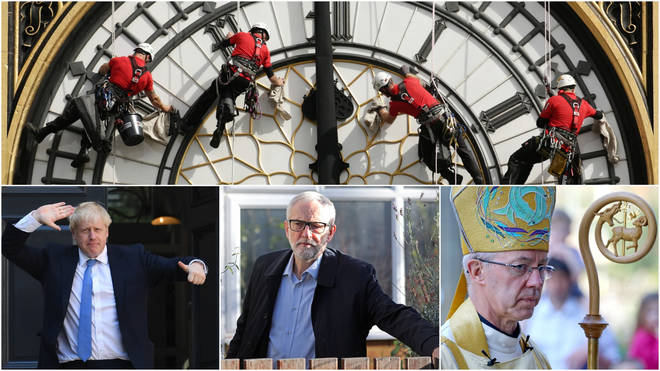 Good morning, here's all the UK and world news you're waking up to on this Monday morning as MPs return to Parliament.
Welcome to Monday's news briefing, it's EJ here bringing you a roundup of all the news you may have missed, and everything you need to know for the day ahead.
Key Dates:
Christmas - 14 Days
Brexit - 46 Days
'Get Brexit Done'
With hundreds of new MPs descending on Westminster and more old hands returning to their role, it seems likely Boris Johnson might achieve his election campaign slogan.
After a huge Tory election win, Boris Johnson now has the majority he needs to secure Parliament's approval for his Withdrawal Agreement Bill, and in a hectic week for MPs they could be voting on it by Friday.
Monday will see the new crop of MPs file into Parliament and go through all the admin you would expect from a new role, pick up security passes and find their offices.
Tuesday all MPs will be sworn in and pledge their allegiance to the Queen.
I [insert name here] swear by Almighty God that I will be faithful and bear true allegiance to Her Majesty Queen Elizabeth, her heirs and successors, according to law. So help me God.
Thursday will see the Queen make her second trip to the Houses of Parliament in one year when she makes a speech laying out her Government's priorities for this session, in a slimmed-down Queen's Speech.
Friday we are likely to see MPs debating Boris Johnson's Brexit deal.
Labour is set for a busy period too as the process to elect a new leader to replace Jeremy Corbyn after he suffered the largest General Election defeat for a Labour leader since 1935.
It's understood the new leader will be in place by the end of March.
We looked at some of the runners and riders in the replace to be the £140,000 a year Leader of the Opposition.
Meanwhile, Senior Labour figure Emily Thornberry has denied calling voters "stupid" as infighting broke out amid a race to succeed Jeremy Corbyn as leader.
The Shadow Foreign Secretary, who is believed to be eyeing a shot at taking over the top job from her ally, accused a colleague of sharing a "total and utter lie" on Sunday.
Ex-Labour MP Caroline Flint accused Emily Thornberry of calling a colleague's Leave-voting constituents "stupid".
Ms Flint told Sky's Sophie Ridge on Sunday that Ms Thornberry told another Labour MP: "I'm glad my constituents aren't as stupid as yours."
Ms Thornberry, who has been tipped to throw her hat into the ring for the Labour leadership, has vehemently denied the claim as "a total and utter lie".
Taking to Twitter, she wrote: "I've never said that to anyone, nor anything like it, nor would I ever think it.
"I once told Michael Fallon: 'You can't just go round making things up.'
"Whatever our differences, let's not sink into that gutter."
In Other News
The Archbishop of Canterbury has raised concern over the "direction of travel" of the UK with a rise in rough sleeping and more "vitriolic language."
The head of the Church of England has used his Christmas message to reflect on the state of vulnerable people in society and suggested tolerance for minority groups has decreased.
The Most Rev Justin Welby shared his Christmas message with The Big Issue on Monday, in which he addressed the rise in rough sleepers, an increase in foodbank users and a rise in the use of "vitriolic language", while people's tolerance of minority groups has decreased, with these groups experiencing a "much harder time".
"We have had an MP murdered. I am not saying we are in a crisis, I am just saying the direction of travel is not what we want," he told The Big Issue.
"Get Your Jab Now"
Senior doctors have urged parents to vaccinate their 'super-spreader' children against the flu.
Vital NHS services showed signs of struggling to deal with patient numbers in November, with every major A&E unit in England failing to hit its four-hour waiting time target for the first time.
Medical professionals have said jabs are the "best defence" against the highly- infectious disease which has hit the UK earlier than usual this year.
More people over the age of 65 have been vaccinated this year compared with 2018, but less than one third of two and three-year-olds have had their jab.
The number of patients booking doctor's appointments with flu-like symptoms has increased by 24% in the last week, according to Public Health England (PHE).
NHS National Medical Director Stephen Powis urged the 25 million Britons eligible for the free vaccination to "get your jab now".
Weather
Headline: Becoming less windy with more dry weather for many.
Today: Showers for parts of Scotland with some hill snow, mainly over the west and north Highlands. Showers continuing for western and southern coastal areas, merging into a larger area of rain in the southeast during the afternoon. Becoming less windy.
Tonight: Rain, with hill snow, for Scotland, perhaps affecting Northern Ireland and northern England for a time. Persistent rain in the southeast. Between these cold with frost and some freezing fog.
And Finally...
Earlier I said that all MPs swear an oath to the Queen, and while they do in order to be able to vote. Not all of them wish to mention God, so permitted to make a solemn affirmation under the terms of the Oaths Act 1978:
I... do solemnly, sincerely and truly declare and affirm that I will be faithful and bear true allegiance to Her Majesty Queen Elizabeth, her heirs and successors, according to law.
Curiously, Sinn Fein won seven Parliamentary seats, but they will never take their place on the Commons green benches, nor will they ever get paid for their role.
Swearing an oath to the Queen goes against Sinn Féin's rejection of the Monarch as their head of State, no oath means no pay.
While they do not get paid the same Parliamentary salary as other MPs they do receive money for expenses and the party itself receives some public money for party business, as do other opposition parties.
That's it for Monday, you're up to date. I will be back tomorrow with more of the same, but until then I hope you have a great start to the week. EJ