Your morning news briefing, Monday 25 November
25 November 2019, 05:51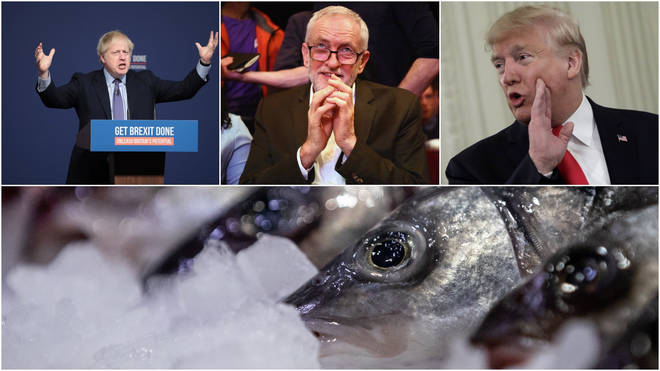 Here's all the UK and world news you're waking up to on Monday the 25th of November.
Good morning, it's the start of another week and it's time for the morning briefing, brought to you by EJ.
General Election
As December 12 rapidly approaches the Conservative Party were the final ones to lay out their manifesto, at an event in Telford, Boris Johnson told supporters his "radical" new manifesto would "get Brexit done," and ensure Britain comes out of the EU by 31 January.
Among the promises made by Mr Johnson was the pledge of 50,000 new nurses for the NHS with bursaries for their study, as well as a "triple tax lock" on rates of income tax, national insurance and VAT.
The party has promised these will not rise under a re-elected Conservative government.
Other notable details in the manifesto are his well-publicised pledge to reinforce the police with 20,000 new officers, a £1 billion boost to social care in every year of the next Parliament and the introduction of an Australian-style points-based system to control immigration.
You can read all the details here.
Meanwhile, Labour has been appealing women voters with a promise of compensation for more than 3 million women who lost out on years of their state pension after the retirement age was raised.
The party is promising that if they win the general election, they will settle the "debt of honour" owed to women born in the 1950s.
Shadow Chancellor John McDonnell said the proposals were designed to redress a "historic injustice".
However, the costing is not in the party's manifesto.
Labour has estimated that the promise would cost around £58 billion over five years, with individual payments averaging £15,380 running to a maximum of £31,300.
Also this weekend, Nigel Farage came out and said the Labour election campaign is "bombing" after Jeremy Corbyn announced his "neutral" position on Brexit.
The Brexit Party leader said it was "astonishing" for Mr Corbyn to choose not to campaign for either Leave or Remain in the event of a second referendum.
He claimed the Labour Party leader's stance showed a "failure of leadership," as he visited a pub and market stallholders in Hartlepool.
Speaking at The King Johns Tavern, Mr Farage said: "Brexit is the defining issue of our day and the leader of the Labour Party is going to abstain from that.
"I find that astonishing. It's a failure of leadership. It's also a reflection that he knows his own parliamentary party are Remainers . . . so he's still trying to stay on that fence and it's not working.
Register To Vote
The deadline to register to vote is midnight on November 26.
The deadline to apply for postal voting is 5pm on November 26 in England, Scotland and Wales, and November 21 for Northern Ireland.
Polling stations will be open from 7am to 10pm on December 12.
Find out more on registering to vote here.
University Challenge
In non-election news, thousands of university staff will walk out for eight days from Monday in a move which will disrupt lectures for over a million students.
Up to 43,000 members of the University and College Union (UCU) at 60 UK universities will strike, in disputes over pay, conditions and pensions, with further industrial action being threatened if agreements cannot be reached.
As well as eight strike days from 25 November to Wednesday 4 December, union members will begin 'action short of a strike'.
Trumped
Billionaire and former New York City mayor Michael Bloomberg has formally launched a Democratic bid to become the next President of the USA.
Mr Bloomberg's written statement posted on a campaign website ends weeks of speculation about whether or not the 77-year-old would run for office.
The former mayor, who is one of the richest men in the world, described himself as being uniquely positioned to defeat President Donald Trump.
Following the announcement, the businessman plans to swiftly enact an advertising campaign that will flood key primary states across the US.
"I'm running for president to defeat Donald Trump and rebuild America," Mr Bloomberg wrote.
"We cannot afford four more years of President Trump's reckless and unethical actions.
"He represents an existential threat to our country and our values. If he wins another term in office, we may never recover from the damage."
And Finally...
This is almost becoming a weekly occurrence now, a couple of weeks ago I brought you the news that the National Crime Agency had found cannabis hidden in old pizza cheese, and then a while later it was £20 million worth of cocaine hidden in frozen meat.
Well, this morning I can tell you officers from the Border Force and NCA have found £10 million worth of cocaine hidden in frozen fish.
Customs officers at Newhaven Port found something fishy and when they searched the vehicle found the drugs.
You can read the full story here.
Well that's it, you're up to date. I'll be back at this time tomorrow, and remember it's exactly one month until Christmas! EJ