Your morning news briefing, Thursday 05 December
5 December 2019, 06:48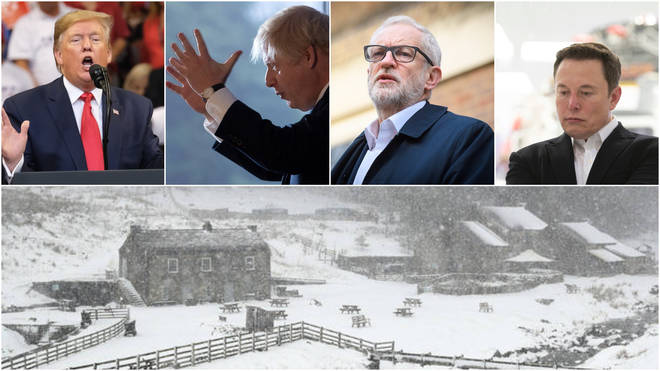 Good morning, here is all the UK and world news and weather you're waking up to on Thursday 05 December.
Morning, EJ here helping you kick your day off right, with the top stories from yesterday and a look forward to what's happening today.
General Election - This Time Next Week...
In exactly one week's time, I will be writing this morning briefing and telling you the polls are about to open, I imagine regular readers have already got a strong idea of who they plan to vote for, but party leaders are continuing campaigning trying to swing voters to their side.
It was a big day for Boris Johnson yesterday, as he attended a Nato event, he was finally pictured shaking hands with Donald Trump, journalists waited to see if the US President waded into the UK's election again.
He didn't, instead he left the summit early after video footage emerged which appeared to show world leaders 'gossiping' about him.
President Trump has been a divisive figure during the election campaign, with unpredictability high, party staff and journalists eagerly watch his Twitter account to see what he is saying to his millions of followers next.
His comments have been weaponised by Jeremy Corbyn, who has run large parts of his election campaign on the basis a Labour government would not sell off the NHS to American companies.
Senior Tories were fearful of the President appearing next to the Prime Minister in case it cost them votes.
Meanwhile, A Labour politician has pledged her party will work to rebuild trust with the British Jewish community and bring "social justice" if they win a majority at the election.
Naz Shah, Labour's Bradford West candidate, was speaking at the Jewish community's national hustings in London on Wednesday where she apologised for a "culture of anti-Semitism" within her party.
The comments come just days after party leader Jeremy Corbyn offered an apology after being criticised over his silence over accusations of anti-Semitism within the Labour Party.
Liberal Democrat leader Jo Swinson has apologised for her party's role in supporting welfare cuts during its time in coalition with the Conservatives.
The Lib Dem chief was a minister for three years in the coalition government, led by the Tory Party.
From 2010 onwards, a number of significant cuts were made to public services and the welfare state in order to reduce government spending.
However, Ms Swinson was apologetic for her party's role in inflicting austerity upon Britain.
"Clearly too much was cut. Clearly not enough was raised from taxation," she said.
Let It Snow
The UK is heading for a cold snap just in time for the general election, with forecasters warning much of the UK could see snow on 12 December.
Areas in the North of England, including the Pennines and Peak District, as well as eastern Scotland, are likely to see a blanket of snow arriving for election week.
Dean Hall, a meteorologist at the Met Office, told LBC News: "The weather is going to be very unsettled for the next couple of weeks.
"There is a high risk of ice and snow for northern England, Scotland and Northern Ireland, and these areas should all be snowy for the election.
"There is also a risk of ice and frozen fog across the UK next week."
Meanwhile, Today's Weather
Becoming milder and windy, but wet in the north-west.
Today: A frosty and foggy start in parts of the south. Otherwise, some sunshine, but heavy showers in the north, soon being replaced by cloudier skies and outbreaks of rain. Very wet for some north-western areas and becoming windy generally.
Tonight: Mild, windy and cloudy with outbreaks of rain and drizzle. Persistent heavy rain affecting some western parts of Scotland, northern England and north Wales easing later.
Takeaway Teacher Outrage
A takeaway owner has spoken of his outrage after he claimed teachers from a nearby school were standing "like bouncers" outside his shop preventing pupils from coming inside.
Neil D'Souza, the owner of Chilli Bellies, spoke to Nick Ferrari on LBC saying staff from Cotham school in Bristol have been stopping pupils from going inside and buying takeaways after school.
He said his takeaway is more than 500 meters away from the school, but many students pass by after leaving for the day, hungry for a treat on the way home.
He revealed school staff have tried to stop pupils visiting his establishment, saying "they stand like bouncers" outside his shop, with high-vis jackets and walkie-talkies.
When the shop owner was asked how he knew school staff were preventing children from visiting his shop, he told LBC "they have declared it in the school, in the assembly, that you are not allowed to go to any of the shops."
"They are all banned," the outraged shop owner said, adding "they physically stand outside my shop and prevent them [pupils] from coming in."
Elon Musk's Twitter Defamation Case
The British cave diver branded "sus" and "pedo guy" by tech billionaire Elon Musk was left feeling "humiliated, ashamed, dirtied," a court has heard.
Musk took the stand in a court in Los Angeles on Tuesday defending himself against claims of defamation following a spat which occurred on social media and in the press.
Vernon Unsworth is suing the co-founder of Tesla for defamation after the billionaire tweeted that he was a "pedo" following the 2018 Thai cave rescue.
On Tuesday Mr Musk told the court his comments had been misrepresented, he said: "Calling someone a 'pedo guy' just means creepy."
The row started after Mr Unsworth, who helped with the perilous underwater mission, dismissed Mr Musk's offer of aid as a publicity stunt.
And Finally...
There were lots of stories that could have been in this section today, but I have found one. My colleague Nick has written about extinction and alcohol. It's a fascinating read.
Our ape ancestors may have been saved from extinction due to their ability to digest booze, scientists claim.
African apes who lived around 10 million years ago supposedly developed the ability to break down ethanol, the chemical compound found in alcohol.
Dr Kim Hockings and Dr Robin Dunbar say this characteristic helped them survive alongside other rival monkey species who preferred eating unripe, alcohol-free fruit that was still attached to plants.
In a newly-released book called Alcohol And Humans: A Long And Social Affair, the pair of professors explain that these ancient primates evolved to the point where they could metabolise fermented, overripe, boozy fruits.
That's it, you're up to date, now I won't be here tomorrow, I'm off for a few days, but my morning briefing will be back on Monday. EJ