Your morning news briefing, Thursday 28 November
28 November 2019, 06:05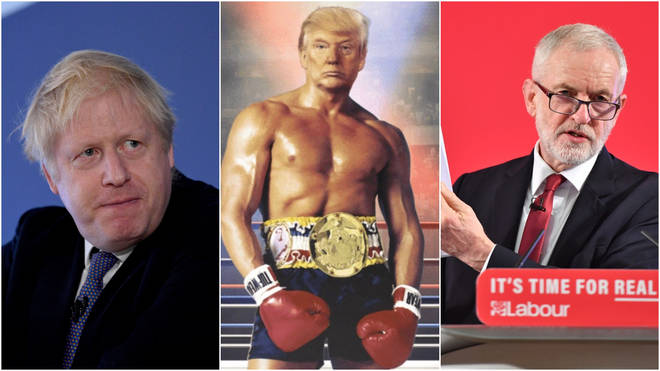 Good morning, here is all the UK and world news you're waking up to on Thursday, November 28.
Welcome to the latter part of the week, as thoughts start to turn towards weekend plans, let's take a look at the big stories of yesterday, and what will be happening today. EJ here, keeping you up to date on your way into work.
General Election - NHS Battles
Avid readers of my morning news briefings will remember yesterday I told you Jeremy Corbyn was set to make a major announcement on the NHS, with no advance copy of his speech, and no other details, journalist filed into a packed conference hall in Westminster where he dramatically announced the Tories were planning on putting the NHS "on the table" in trade talks with the US, and he had proof.
Brandishing a 451-page dossier of 'evidence' Mr Corbyn told reporters and supporters the uncensored documents were proof the US is asking for the NHS to be "on the table" and will be "up for sale," under a Conservative government.
Revealing the document Mr Corbyn said Labour had "obtained" an unredacted document which was a "very different version of events" to the previously redacted version Labour activists obtained.
Previously, Boris Johnson addressed claims made by Labour saying there were no circumstances when any Conservative government would put the NHS on the table in any trade negotiations.
Mr Johnson said: "It is completely untrue. There are no circumstances whatever in which this government or any Conservative government will put the NHS on the table in any trade negotiation. Our NHS will never be for sale."
But, the Tories didn't agree with the Labour leader's version of events. In a strongly-worded statement The Conservative Party accused Jeremy Corbyn of peddling an 'out-and-out' lie by suggesting they wanted to sell off the NHS.
In a strongly worded rebuttal, the Tories branded Corbyn's claims a "smokescreen" designed to cover up the fact he has "no plan for Brexit."
It didn't take long for intrepid internet users to point out the document Labour had "obtained" had been uploaded to Reddit several months ago, and then Tweeted at the party...
Having looked at the document there is no evidence Government ministers have agreed the NHS service should be part of a trade deal with US, and the time period does not cover Boris Johnson's time in the top job.
Women!
Boris Johnson is aiming for half of future Tory general election candidates to be women in the "biggest drive" of female member, activist and candidate recruitment.
The Prime Minister said a Conservative majority government "will support women to reach their full potential."
His comments come on the 100th anniversary of Nancy Astor becoming the first woman MP to take her seat in Parliament.
Mrs Astor represented Plymouth for the Conservative Party, and a statue of her will be unveiled in the city on Thursday.
The Prime Minister said: "When Nancy Astor entered Parliament 100 years ago, she was a trailblazer, ripping up the conventions that held women back from joining the workplace.
"A Conservative majority government will support women to reach their full potential - be that in the workplace, by opening up new opportunities to work flexibly or start their own business, or through our work internationally to make sure all young women get 12 years of education."
Rail Fail For Christmas Commuters
A present nobody asked for looks set to land under the tree of commuters in December.
27 days of rail strikes are set to cause serious disruption over the Christmas period with only half of weekday trains running and last services operating earlier than normal.
Fresh talks between rail bosses and unions have shown no sign of resolving the long-running dispute over guards on South Western Rail (SWR), meaning the strike action is set to begin next week.
Drivers and guards will strike for 27 days from 2 December until the New Year, only stopping for a brief period around the General Election on 12 December and for Christmas Day and Boxing Day, when trains do not run anyway.
A reduced service will be running from Monday 2 December- Friday 20 December.
You can find out all the details, and if you will be hit by the strikes, here.
Diplomat Legal Case
The family of teenage motorcyclist Harry Dunn have launched a legal action against the Foreign Office which they said could cost them "upwards of £50,000".
Harry was killed when his motorbike was involved in a head-on crash with a car outside RAF Croughton in Northamptonshire on August 27.
Anne Sacoolas, the motorist allegedly responsible for the crash, claimed diplomatic immunity and was allowed to return to the US, sparking an international controversy.
His parents, Tim Dunn and Charlotte Charles, have filed High Court papers for a judicial review against Foreign Secretary Dominic Raab.
Family spokesman Radd Seiger said the FCO's interpretation of diplomatic immunity laws was "absurd in practice and wrong in law."
Weather (umbrella potential 5/10)
Headline: Turning colder and drier later today or tomorrow.
Today: Most of England and Wales rather cloudy with rain at times. Northern England drier and brighter later though, whilst southern UK mostly dry at first. Brighter for Scotland and Northern Ireland. Cold and windy in the north and far east.
Tonight: Today's rain gradually becoming confined to south Wales and southwest England. Otherwise, a cold and frosty night for many whilst northern Scotland and North Sea coasts catch occasional showers.
And Finally... Trump Tweets
Yes, more often than not Tweets from US President Donald Trump feature in my "And Finally" section.
Today Trump tweeted a bizarre photo, showing his head superimposed onto the body of the fictional boxer, Rocky Balboa.
No-one's quite sure why the 73-year-old's comparing himself to the character, who was played by Sylvester Stallone in a number of successful films.
The post has got more than half a million "likes", and triggered a number of memes and other photos in response.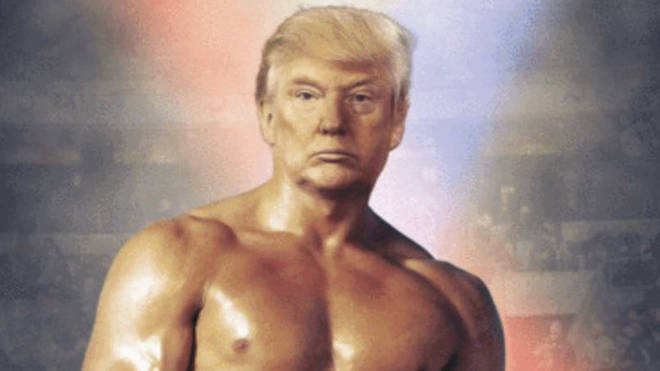 That's it, you're up to date. Same time, same place tomorrow, and have a great day. EJ