Your morning news briefing, Tuesday 17th September
17 September 2019, 04:18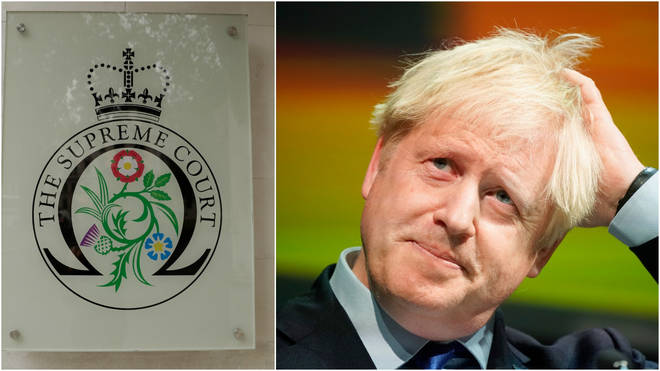 Here's the latest in UK and world news on Tuesday morning.
Good morning, here's the news you're waking up to today.
Brexit legal challenge as the Supreme Court hears a legal challenge to the prorogation of parliament.
The Supreme Court will consider later whether the Prime Minister's decision to suspend Parliament for five weeks was lawful, the legal case was brought by Article 50 campaigner Gina Miller and former Prime Minister John Major.
It's thought they'll spend three days on the case - following conflicting judgments in lower courts.
Boris Johnson insists he's stopped MPs from sitting so he can set out his policies when a new session begins - but he's been accused of silencing Brexit debate.
The court case comes a day after Luxembourg's prime minister accused Boris Johnson of holding British and other European citizens "hostage" by how he's handling Brexit.
Boris Johnson was meant to hold a joint press conference with Xavier Bettel - but left him with an empty podium over concerns about loud anti-Brexit protesters.

On the final day of the Lib Dem Autumn Conference - leader Jo Swinson will give a speech.
On Tuesday Liberal Democrat leader Jo Swinson is preparing to tell her party conference a no-deal Brexit would be like "burning your house down."
The East Dunbartonshire MP is expected to criticise the Prime Minister and say his spending on preparations for leaving the European Union without an agreement is "sickening."
Yesterday Liberal Democrat MP Chuka Umunna attacked his former leader Jeremy Corbyn, during a speech to his party's conference in Bournemouth.
He joined the Lib Dems in June, having walked out of Labour in February to become independent.
Victims of stalking, child abuse and other sex crimes will be able to appeal the sentence given to their perpetrators if they think the court has been "unduly lenient."
14 more offences are to be added to the government's Unduly Lenient Sentence scheme - which gives people the chance to challenge a jail term they feel isn't tough enough.
The Attorney General's Office can review very low sentences given by the Crown Court in England and Wales if they're asked to.
London Fire Brigade has said they are tackling a blaze at a block of flats in Hackney where the ground to the fifth-floor balconies is ablaze.
London Fire Brigade said 12 fire engines and around 80 firefighters have been called to a fire at a block of flats on Harry Zeital Way in Hackney.
Crews from Stoke Newington, Homerton, Bethnal Green, Islington, Holloway, Shoreditch and surrounding fire stations are at the scene.
One woman was led to safety by firefighters but there are no reports of injuries, LFB said.
Donald Trump has said it is "looking like" Iran was responsible for the attacks on key oil installations in Saudi Arabia but added he does not want war.
The president, speaking at the White House, said the US is not looking at retaliatory options until he has "definitive proof" that Iran was responsible.
But he told reporters in the Oval Office that the US "is prepared" if the attacks warrant a response.
Secretary of state Mike Pompeo also said "emerging information indicates that responsibility lies with Iran".
New York City prosecutors subpoena eight years of Donald Trump's tax returns
Manhattan's district attorney ordered the president to submit his personal and corporate tax returns from 2011 onwards as investigators examine hush money allegedly paid to Stormy Daniels.
New York County District Attorney Cyrus Vance sent a subpoena to Donald Trump's accounting firm, Mazars USA, to look into his personal tax returns and those of the Trump Organisation.
Mr Trump said he would publicise his tax returns during the 2016 presidential campaign but is yet to disclose them.
Holders Liverpool start their Champions League defence away in Italy this evening.
The Premier League leaders take on Napoli in their opening game in Group E.
Meanwhile, Europa League winners Chelsea start their Group H campaign against Valencia at Stamford Bridge.
Manager Frank Lampard's in charge of the Londoners for the first time in the competition.
And don't forget you can stay up to date on the latest with Brexit on Global's Newsroom live Brexit blog.