Your morning news briefing, Tuesday 3 December
3 December 2019, 07:01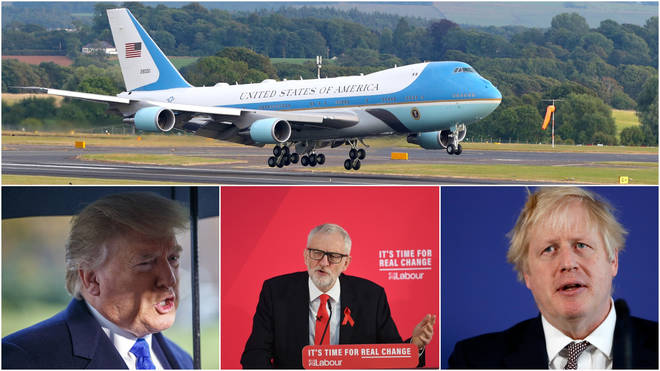 Good morning, here's all the UK and world news you're waking up to on this Tuesday morning.
Hey, EJ here with today's key stories and events that will help you kick start your morning.
General Election - 10 Days To Go
In ten days you will have to make up your mind who to vote for, to be honest if you're reading this you probably already know who you want to vote for, but the battle to win votes is still well underway.
With both parties reverting to their traditional battlegrounds, Jeremy Corbyn has used Donald Trump's visit to the UK as an opportunity to write to the US President to demand he clarify his position on the NHS.
Mr Corbyn's issues revolve around a potential post-Brexit trade deal between the US and the UK which the Labour leader fears will see the NHS sold off to American companies.
Meanwhile, Boris Johnson attacked Jeremy Corbyn on his record when it comes to security, in a blistering barrage in The Sun newspaper the Tory party leader said Mr Corbyn always sided with the UK's "enemies."
He also voiced fears Britain's closest allies were "very anxious" at the prospect of Jeremy Corbyn becoming Prime Minister because he cannot be trusted with secret intelligence.
Air Force One
Curiously, any US Air Force aircraft the President flies on uses the callsign "Air Force One" when Donald Trump flies on a US Marine Corps helicopter it becomes 'Marine One' I am still trying to find out what happens if he goes in a tank, does it become 'Army One'? If you know, please let me know.*
But, Donald Trump is in London in his capacity as US President, meaning coming along with him are thousands of US Secret Service agents and officers, a plethora of military communications experts, a huge convoy of vehicles - including an ambulance with 8 litres of the President's blood type - and more planning than a loft extension.
My colleague Nick took a look at some of the other accoutrements that come with the job of President.
The President is also always accompanied by a uniformed, armed, military aide carrying a low profile black bag. Referred to as the 'nuclear football' the bag contains everything Donald Trump needs to launch a nuclear strike.
Read more about the most powerful briefcase in the world here.
Donald Trump is in London for the Nato summit, the meeting of Nato leaders is set to put defence spending and the future of the military alliance firmly on the election campaign agenda in the US and the UK.
The Conservatives are cautious of appearing overly friendly with Donald Trump after Labour's campaign focused heavily on the alleged desire of the US to buy up NHS drugs and services.
So what is Nato and what does it mean to Britain?
Prince Andrew Woes
Virginia Roberts Giuffre alleges that she was forced to have sex with Prince Andrew on three occasions and that the experience left her feeling "horrified and ashamed".
Prince Andrew's accuser Virginia Roberts Giuffre has alleged that after being forced to have sex with the Duke, he got up and "thanked" her.
She continued: "I sat there in bed, just horrified and ashamed and felt dirty."
In her first UK interview, Ms Roberts Giuffre said that she was 17 years old and working as a locker room attendant at Donald Trump's Mar-a-Lago resort in Florida when she was approached by Jeffery Epstein's then-girlfriend Ghislaine Maxwell to train as a massage therapist.
Find out all the details here.
"Ken Livingstone, you should know better than this, what are you doing?"
Commuters were left furious when former Mayor of London Ken Livingstone "deliberately" got his foot stuck in a tube door.
The bizarre moment was caught on camera by a commuter, who claimed he was going to be late for work because of the stunt.
In the video, a member of staff can be seen trying to free Mr Livingstone's foot from the door, while the former Mayor shouts: "You're pushing me over. You're trying to push me over."
And Finally... *
While it's not the pun-filled headline, or funny story you normally get, I am bringing you a geeky fact on Air Force One.
The plane which carries the Vice President is always Air Force Two (one assumes because he's second in command) and when neither the President or the VP is on board it's referred to by just a number (92-9000).
Should Mr Trump have to get on a civilian flight or commercial airline, the callsign would become "Executive One."
That's it, you're up to date. I will be back tomorrow with more news and fewer facts about the intricacies of the office of the President of the United States. EJ