Your morning news briefing, Wednesday 18 December
18 December 2019, 06:36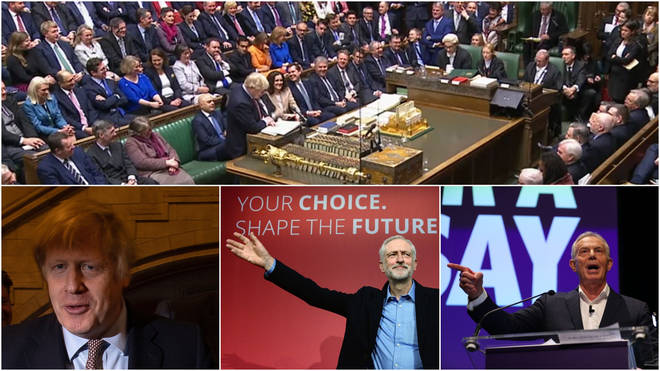 Good morning, here's all the UK and world news you're waking up to on Wednesday morning.
It's EJ here - bringing you everything you need to know at the start of your day.
"You ain't seen nothing yet"
Boris Johnson has insisted voters have returned "one of the best Parliaments this country has ever produced" and reiterated he will "get Brexit done" in a triumphant speech to the Commons.
The Prime Minister marked the return of MPs to the Commons by hailing the new Parliament as a "vast improvement" on its predecessor.
He said this was due to its diversity and also because it was "not going to waste the time of the nation" over Brexit, with the Withdrawal Agreement Bill expected to be brought back on Friday.
Earlier in the afternoon, Mr Johnson told Cabinet "you ain't seen nothing yet"as Europe warned a No-Deal Brexit could be back on the table.
Meanwhile, not a good day for outgoing Labour leader Jeremy Corbyn who was confronted and called a "preening narcissist" by a former Labour MP who lost her seat in the election.
Mary Creagh lost her seat in Wakefield last week when her 2,000 majority was overturned by Conservative Imran Ahman Khan.
The 52-year-old said on Channel 4 News that she blamed Jeremy Corbyn for "enabling a hard Brexit" and "five years of austerity."
She explained how she spoke to the Labour leader in Westminster on Tuesday as she returned to clear her office.
Ms Creagh said: "This was Jeremy's manifesto, Jeremy as the leader, Jeremy's NEC, Jeremy's plan, called at Jeremy's time."
She said "on the doorsteps there were two words" used to describe the leader's approach, but that she could not repeat them "pre-watershed".
Also weighing in, former Labour Prime Minister Tony Blair who is is set to warn the Labour party against a "whitewash" of the devastating general election defeat.
The former prime minister will warn Labour faces an existential crisis if the party does not revitalise itself as a "serious, progressive" alternative to the Tories.
Mr Blair, who was in power from 1997 until 2007, is set to tell Jeremy Corbyn he will cause "irreparable damage" if his planned "process of reflection" before standing down does not highlight the reason Labour were beaten at the polls.
The warning will be made at a speech on Wednesday when the former party leader publishes a damning report on the party's failure in the election.
Tony Blair issues warning to Labour.
Boris Johnson is keeping another election promise as he appoints a former commissioner of the Equality and Human Rights Commission to head an inquiry into Islamophobia and other forms of prejudice within the Tories.
The party said Professor Swaran Singh would lead the independent review into improving party handling of complaints of all forms of discrimination and prejudice, including Islamophobia.
A spokesperson said the inquiry would ensure "any instances are isolated and that there are robust processes in place to stamp them out."
Prof Singh is a former commissioner of the Equality and Human Rights Commission (EHRC), the watchdog currently investigating anti-Semitism allegations within Labour.
In Other News
The number of homeless people in England has risen to 280,000 - the highest figure ever.
This is an increase of 23,000 since 2016, meaning that one in every 200 people in England is now without a home.
Homeless charity Shelter said that the real numbers could actually be higher due to some types of homelessness often going undocumented.
This includes people who "sofa surf" and stay with friends and family while they have nowhere else to go.
A new review found London came out worst in the figures, with one in every 52 people now homeless in the capital.
Trump Tantrum
Donald Trump has sent a letter to House Speaker Nancy Pelosi blasting her efforts to impeach him as an "unprecedented and unconstitutional abuse of power".
The President accused Pelosi of "cheapening the importance of the very ugly word, impeachment" and "declaring open war on American Democracy" in her pursuit of his impeachment.
In the six page letter, Donald Trump called the inquiry "spiteful", "a crusade" and an "election-nullification scheme".
Christmas Ruined!
Christmas has been ruined for one family after a B&Q lorry smashed into their home in Essex.
The articulated lorry smashed into the corner of the house in Canon's Gate in Harlow in the early hours of Tuesday morning, waking resident David Hill with a "tremendous thud."
The top corner of the house has been smashed, with the lorry left wedged precariously in the side of the home.
Mr Hill, 31, had been in bed with wife Hannah, 28, when crash took place.
The lorry smashed into his daughters' bedroom but luckily they had gone to spend the night with their mother when the crash happened.
The family has now been forced to go elsewhere for Christmas, despite plans to host relatives for Christmas.
Weather
Headline: Fog clearing but turning unsettled with rain and strong winds.
Today: Fog slow to clear especially over east and northeast England. Some sunshine for many, with only the odd coastal shower. However thickening cloud and strong winds will push heavy rain into parts of Northern Ireland, western Scotland and southwest Britain.
Tonight: Turning milder for all, as strong winds sweep rain northwards and eastwards across remaining areas. The rain will be heavy in places, especially in the south, with possible localised flooding.
And Finally...
While we were on the subject of MPs oaths earlier in the week...
Cabinet Office Minister Oliver Dowden became the first MP to have to take the oath for a second time, after getting it wrong on the first attempt.
In his first try, Mr Dowden said: "Oliver Dowden. Hertsmere. I swear by almighty God that I will be faithful and bear true allegiance to Her Majesty Queen Elizabeth, her heirs and successors according to God, to law, so help me God."
Asked by the clerk to repeat the oath, Mr Dowden corrected himself, replacing "according to God" with "according to law".
Meanwhile, babies of the House were welcomed to Parliament as MPs returned to Westminster following the general election.
Conservative education minister Kemi Badenoch was sworn in alongside her new baby and held the King James Bible while her daughter was strapped to her body.
Labour's Stella Creasy also brought her baby daughter Hettie in a sling during her visit to the chamber.
The pair were among the hundreds of MPs who went through the process of making an oath or solemn affirmation of allegiance to the Crown in order to take their seats in Parliament.
The actual title of "baby of the House" falls to the youngest MP, who is now Labour's Nadia Whittome (Nottingham East) - aged 23.
The Commons erupted into a chorus of "ohs" when newly re-elected Commons Speaker Sir Lindsay Hoyle reminded MPs that until they take the oath or affirm they "will not receive any salary".
After the Father of the House, Sir Peter Bottomley, was sworn in, the Prime Minister was asked if he wanted to take the oath or to affirm, to which he said: "I will swear."
That's it, you're up to date. It's the LBC News Christmas party this evening, so I am planning to be back at the same time tomorrow. Have a great day. EJ