Charles' Coronation heralds a new era for the UK and the royals but can he bring his fractious family together?
6 May 2023, 08:31 | Updated: 6 May 2023, 09:40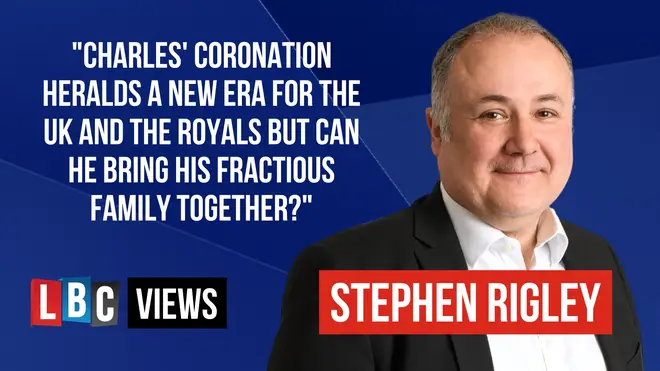 Everything King Charles has done throughout his entire life has been preparing him for the moments that begin today.
His coronation and the scale of the celebrations through London, Britain and the Commonwealth will be the first true guide of Charles's first months as monarch and what we can expect in the months and years to come.
So far, the signs are good.
Charles is enjoying positive approval ratings at a time when support for the monarchy is lower than the Royal Family would be hoping for.
Robert Lacey, royal biographer and consultant historian for The Crown has said: "I think it has gone much better than expected. People are much fonder of King Charles III than they were of Prince Charles...People have been happy to yield and pass on to him the gravitas that went with his mother."
In the decades before ascending to the throne, Charles has at times been a controversial figure, with outspoken views on subjects as diverse as salmon fishing, architecture, religion and the Iraq War.
He has still touched on subjects he cares about but has been careful not to step outside the boundaries of impartiality.
And since becoming King, Charles has appeared sure-footed in his new role.
His hugely-successful trip to Germany has helped build post-Brexit bridges with continental Europe and he has been noticeably more guarded about voicing his personal opinions.
He has still touched on subjects he cares about but has been careful not to step outside the boundaries of impartiality.
So, as Charles is crowned today in a 'slimmed down' ceremony steeped in centuries of tradition, we will see the new Charles.
Charles is 74 but it is possible that he will be the first King of a post-colonial country.
Republican sentiment is rising across the Commonwealth. Barbados ditched the crown in 2021 with other Caribbean nations set to follow amid continuing controversies surrounding Britain's refusal to apologise for the slave trade.
Re-evaluations of the monarchy are underway in Australia, Canada and New Zealand. Charles himself has expressed a desire to visit India.
The Commonwealth was hugely important to the Queen. It remains to be seen how Charles will manage to hold it together.
But perhaps the biggest challenge for Charles in his new role as the nation's grandfather is much closer to home.
How can he solve the running sores that have plagued his family in recent years.
Simmering scandals still surround Prince Andrew, Harry and Meghan.
The Queen managed to remain untouched by these events.
How Charles will handle these could define his time as monarch